Yes vote 'boon' for northern England claims Salmond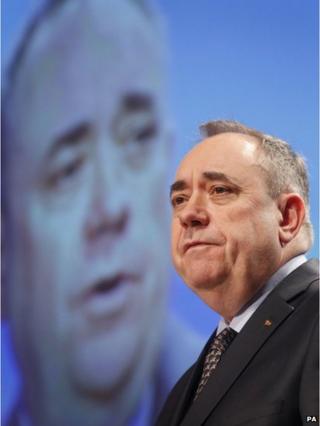 Scotland's first minister Alex Salmond has insisted Scottish independence would be a boon for the north of England because it would rebalance the UK economy.
Mr Salmond was speaking to an audience of business people in Carlisle.
He insisted a "yes" vote would be "good for all of the nations of these islands."
Prime Minister David Cameron had earlier said Scotland should remain united with England in the "world's greatest family of nations".
Mr Salmond denied that his plans to cut corporation tax in an independent Scotland would damage businesses in the north of England.
He insisted that the real danger was a UK which had become "profoundly imbalanced."
An independent Scotland would, he said, be "an economic counterweight to London and the south east."
The Scottish National Party leader said the economy of the British capital had grown approximately twice as much as the rest of the UK since 2007, fuelled, he argued, by a new housing bubble, with house prices rising by 18% in London against 6% in the north west of England.
In contrast, he suggested, "a successful Scotland" would become "a new growth pole to the north, shifting the economic gravity of these islands."
Venturing south of the border on St George's Day, Mr Salmond cited the UK government's planned high speed rail project, known as HS2, as an example of the north being neglected.
HS2 is scheduled to link London and Birmingham by 2026, with proposed extensions to Leeds and Manchester in the 2030s.
Public spending on major transport infrastructure was £2,700 per head in London, £130 per head in the north west of England and only £5 per head in the north east, claimed Mr Salmond.
'Ties that bind'
"High speed rail won't come to Carlisle for decades, if at all," said Mr Salmond, promising that his government would order a feasibility study into a high speed rail link between Scotland and England if there was a vote for independence.
"The ties that bind the nations of these islands will continue and flourish after Scotland becomes independent," he told his audience in Carlisle Cathedral.
"You will remain Scotland's closest friends, as well as our closest neighbours."
Independence "would create opportunities for co-operation and partnership which would benefit the north of England more than anywhere else."
Responding to Mr Salmond's speech, the Scottish Liberal Democrat leader Willie Rennie said HS2 was an argument for remaining in the UK.
"By removing Scotland from the UK, he removes Scotland of any influence over acceleration of high speed rail," said Mr Rennie.
"If he was being straight with the people of Carlisle Alex Salmond would have told them that his economic policies would have a detrimental effect on their economy.
"It would take more than a fast train to save the damage caused by his race to the bottom on corporation tax."