Scottish independence: Governments clash over pension costs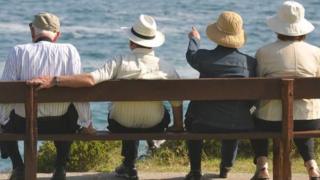 An independent Scotland would have to fund pension costs of an additional £450 per working-age adult each year, the UK government has claimed.
It has published analysis by the Department of Work and Pensions indicating the increased costs that could be faced by the early 2030s.
Deputy First Minister Nicola Sturgeon said welfare and pension spending would be "more affordable" in Scotland.
She said the UK government had started to "dismantle" the welfare state.
The predictions from the UK government are set out in the latest "Scotland analysis" paper.
Work and Pensions Secretary Iain Duncan Smith said: "This country has a long history of a strong welfare state, which we can rightly be proud of.
"As part of the UK, Scottish people benefit from this resilient and unified system, which delivers the same support everywhere irrespective of peaks and troughs in economies of the nations or demographic differences.
"Proposals by the Scottish government would risk the well-being of vulnerable people who are currently supported by this system.
"On top of the ageing population, which is increasing faster in Scotland than the rest of the UK, the Scottish government are committing to spending even more on wider welfare without saying how they'll pay for it."
The UK government paper based the £450 figure on its projection of future costs and the impact of what it said were SNP policy pledges.
It calculated Scotland's benefits bill, including childcare and tax credit, as totalling £17.7bn in 2012-13.
The paper said this was £60 more per person than in the UK as a whole.
Alistair Carmichael, the Scottish Secretary in the UK government, told BBC Radio Scotland's Good Morning Scotland programme that the current system was "fantastic" and worked "very well".
Ms Sturgeon said she did not accept the UK government analysis.
She told BBC Radio Scotland's Good Morning Scotland programme: "Pensions and welfare are more affordable than in the rest of the UK, that would be the starting point of independence.
"And why do a I say that, well they make up a smaller proportion of our GDP and a smaller proportion of our tax revenues.
"This is just another example of a UK government that is scaremongering that is plucking figures out of thin air to try and tell people in Scotland you can't do it - the message from this government and the Yes campaign is we can do it."
Ms Sturgeon added that Mr Duncan Smith was afraid to come to Scotland to launch the analysis paper in person - and was using Mr Carmichael as a "human shield".
She said: "Perhaps he is aware of the hypocrisy at the heart of their message today."