Scottish independence: Oxfam adviser calls for 'radical alternative'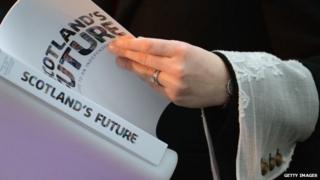 The Scottish government's White Paper on independence does not offer a "radical alternative" to UK policies, a senior adviser to Oxfam has said.
Katherine Trebeck told a Holyrood committee the document proposed a "low road" to faster growth and exploiting oil fields.
Her comments came as MSPs questioned anti-poverty campaigners ahead of September's independence referendum.
Dr Trebeck stressed Oxfam had "no position on the referendum".
The Scottish government published its White Paper blueprint for independence in November 2013.
Dr Trebeck told the Scottish Parliament's economy committee: "A very quick scan of the White Paper suggests that it has a very similar type of low road about faster economic growth, exploiting the oil fields when our environment won't handle that.
"I've yet to see a really fully articulated radical alternative."
She added: "We may not be as bad as the place the London-effect would take the UK into, but we're still a terribly unequal country.
"Oxfam has no position on the referendum, but we are in no doubt we need radical change in how we do the economy in Scotland and what is exciting about the referendum is that it has opened up a discussion in Scotland about what sort of country we want to be.
"We need no further indictment to the fact that our economy and social safety net is broken than the dire rise in food banks."
Dr Trebeck, a research and policy adviser for Oxfam, suggested it was wrong for the Scottish government to provide grants to Amazon's distribution centre in Dunfermline when the company has faced criticism over its UK tax arrangements.
Also appearing at the committee, Morag Gillespie, from Glasgow Caledonian University, said Holyrood needed full control over social security whether or not Scots voted for independence.
"Whether it is devo max or independence is almost less important than the freedom of mind it brings for people to think outside the tramlines that we have been struggling with for all of these years," she said.
"We have been tinkering at the edges of a system that doesn't work."
'Current powers'
Ms Gillespie added that she had read a submission from the IPPR think tank arguing for partial devolution of welfare benefits, telling MSPs: "Personally, I have to say that down that route lies chaos."
Jim McCormick from the Joseph Rowntree Foundation told the committee the Scottish Parliament could do more with its current powers, but added: "If we want to do things differently and chart a different pathway, be more effective in responding to the different needs across Scotland, the different regional local housing and jobs markets that exist across Scotland, then a different settlement will be needed.
"More powers will have to come to Scotland in whatever constitutional change that may be."
On 18 September, voters in Scotland will be asked the Yes/No question: "Should Scotland be an independent country?"