Plan to abolish corroboration put on hold by Scottish government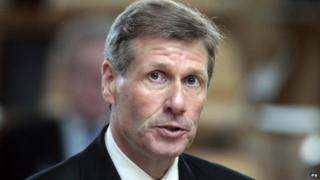 Controversial plans to end the need for evidence in Scottish criminal trials to come from two sources have been put on hold for at least a year by ministers.
Detailed scrutiny of plans to ditch the general requirement for corroboration will not go forward until after a review is completed in April 2015.
Justice Secretary Kenny MacAskill said he was still committed to the reform.
Scotland's other political parties, which had called for the delay, welcomed the announcement.
The move to end the requirement of corroboration, contained in the Scottish government's Criminal Justice Bill, was needed because too many victims were being denied justice, Mr MacAskill has said.
The change is backed by police and prosecutors, but there has been fierce opposition from other sections of the legal profession, who have raised concern of an increased risk of miscarriages of justice.
MSPs have already passed the bill in principle, but the legislation will now not go ahead to its second stage of parliamentary scrutiny until after a review on additional safeguards which may be required alongside the change - being conducted by former High Court judge Lord Bonomy - is completed in spring next year.
Mr MacAskill, who outlined the move to parliament, said it would have "minimal impact" on the overall timetable of the bill, because most of its measures were not due to come into force until 2015-16.
He said: "The Scottish government remains firmly committed to all aspects of the Criminal Justice Bill, including our proposals to abolish the requirement for corroboration - which as I have said time and again, is a barrier to justice for too many victims of crimes which are committed behind closed doors, such as rape and domestic abuse.
"When we announced the creation of Lord Bonomy's review group in February, there were calls - including from the Law Society and Faculty of Advocates - for us to remove the corroboration reform from the bill and to bring forward a separate bill later in the session once Lord Bonomy had reported.
"That was not acceptable as it is one of the key reforms in the bill and is vital to improving the criminal justice system for vulnerable victims."
Mr MacAskill added: "However, we have also made clear our willingness to listen to constructive proposals in relation to this key legislation.
"That is why we gave careful consideration to - and in the spirit of co-operation have accepted - the suggestion from opposition members that Stage 2 should commence after Lord Bonomy's review has been completed."
Labour MSP Graeme Pearson, a former senior police officer, said: "This is a welcome U-turn. The force of opposition to the SNP's approach was significant.
"While we all support the need to help more victims of crime see justice done, we needed to see what would replace corroboration."
Conservative justice spokeswoman Margaret Mitchell also welcomed the delay, but added: "Looking at this with a cynical eye, it could be observed that this has been parked until well after the referendum.
"But what Kenny MacAskill will not be able to avoid in the run up to September is why he ignored so much of the evidence in the first place."
Alison McInnes, the Liberal Democrat justice spokeswoman, said: "This is a victory for common sense.
"People will breathe a sigh of relief today having watched the justice secretary step back from the brink. Parliament should never be asked to pass legislation before it has considered all the implications."
Green MSP Patrick Harvie, added: "We continue to have concerns about the wholesale removal of the corroboration rule and this delay, which will allow more evidence and debate to be heard, is preferable to charging ahead with the bill."
The Crown Office said that in 2012-13 there were 2,210 domestic abuse cases which could not be prosecuted because of insufficient admissible evidence.
The figures led to campaigners for victims of domestic violence and rape backing the government reform.
But the move has been opposed by many court judges and criminal lawyers.