Mobile coverage in Scotland 'worst in UK'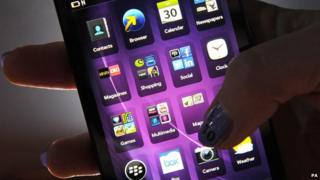 Scotland has the worst mobile coverage in the UK, according to the Federation of Small Businesses (FSB).
The FSB called on the Scottish government to relax planning rules to allow development to boost coverage.
The small business body cited the Scottish government's own research suggesting more than a quarter of the country lacked adequate coverage.
The Scottish government said it was "committed to improving mobile coverage in Scotland".
It is holding a consultation on simplifying the planning process for telecoms infrastructure.
The FSB, a UK-wide body with around 19,000 members in Scotland, has written to the Scottish government calling for the extension of permitted development rights for digital infrastructure.
Planning permission is required to upgrade existing mobile phone masts and for future development.
'New technology vital'
Andy Willox, the FSB's Scottish policy convenor, argued good quality mobile phone coverage for businesses was not a luxury but a necessity.
"Too much of Scotland doesn't have adequate mobile phone coverage," he said,
"Our members tell us that new technology will be vital to grow their business and our visitors tell us that they want to use their mobile devices if they're in the centre of Edinburgh or on the Isle of Mull.
"We're writing to the Scottish government backing their proposals to amend the planning system and improve Scotland's levels of connectivity. But that can't be the end of the story.
"Businesses and their customers across Scotland want better coverage and we must see bold action to ensure that no part of the country is left behind.
"It is unacceptable that a quarter of Scotland doesn't even have a 2G signal."
'Insufficient'
A Scottish government report, published last September, suggested more than a quarter of the country had 2G coverage that was either "fair" or "poor", meaning coverage was "insufficient for good quality connection".
The report, which combined data from sources including the Scottish Ambulance Service and Scotrail, also showed a majority of Scotland's land mass lacked good quality 3G coverage.
Mr Willox added: "Official figures suggest that Scotland has the worst coverage amongst UK nations.
"We must get to grips with this problem before our businesses lose out to better connected competitors and visitors don't come to Scotland for fear of being cut off from the rest of the planet."
The Scottish government's report recommended that it "review the planning system, and its implementation at local level, to ensure that it is proportionate and does not unduly inhibit the roll-out of mobile networks, particularly 4G".
'Improving mobile coverage'
A spokeswoman said: "The Scottish government is committed to improving mobile coverage in Scotland. Achieving widespread 4G coverage, whilst ensuring that the gap between those who do not receive 3G or even 2G services does not widen, is a priority.
"The proposals will encourage operators to make use of existing sites and does not relax the planning requirements for new masts.
"Our £410m Digital Scotland Superfast Broadband programme is already increasing the availability of superfast services across Scotland. Alongside commercial coverage, our programme will ensure that 95% of premises across Scotland will have access by 2017/18.
"The proposals in this consultation could speed up this process even further."