Scottish independence: Trident negotiations not ruled out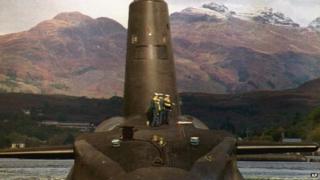 Trident nuclear weapons could be part of any negotiations if Scotland votes "Yes" in the independence referendum, Downing Street has indicated.
The prime minister's official spokesman said negotiations would take place in "a whole range of areas".
It came after a newspaper quoted the defence secretary as saying "everything will be on the table" in talks.
The Scottish government said the comments showed UK ministers would negotiate on a currency union as well.
Scottish ministers are committed to removing nuclear weapons from Scotland after independence, and have denied suggestions they would ditch the policy in return for a formal currency union in the event of a "Yes" vote in September's referendum.
Defence Secretary Philip Hammond is due to make a major speech in Glasgow on Tuesday.
According to the Herald newspaper, Mr Hammond said in an interview ahead of the speech that, in the event of a "Yes" vote: "You can't go into any negotiation with things that are non-negotiable".
'Nothing non-negotiable'
Asked whether any issue would be treated in isolation, Mr Hammond was quoted as responding: "No. It's all in. There will be nothing non-negotiable. Everything will be on the table."
Last month the Guardian quoted an unnamed UK minister as saying that keeping Trident could be part of any negotiation over an independent Scotland sharing the pound in a formal currency union.
Mr Hammond was previously forced to deny that he was the source of the Guardian's story, which came after the Conservative, Liberal Democrat and Labour parties joined forces to say that a currency union would not happen if voters in Scotland backed independence.
Asked about previous comments by the defence secretary on Trident, the prime minister's official spokesman told reporters at Westminster: "In the event of a vote in favour, there will have to be a series of negotiations in a whole range of areas."
The spokesman did not rule out Trident being part of that discussion and negotiation.
Scotland's Deputy First Minister, Nicola Sturgeon, said: "Philip Hammond has just effectively confirmed the story in the Guardian from an unnamed UK government minister that 'of course' there will be a currency union between an independent Scotland and the rest of the UK.
"By saying that as far as the UK government is concerned 'there will be nothing non-negotiable' and that 'everything will be on the table' after a 'Yes' vote, Mr Hammond has now conceded that by definition there will be negotiations on currency - flatly contradicting the bluff and bluster from his Cabinet colleague George Osborne."
She added: "If Scotland votes 'Yes', there will be a currency union because it suits the rest of the UK as well as Scotland. And Trident nuclear weapons will go from Scotland, because that is a matter of principle not a bargaining chip for negotiation."
In his speech to the SNP's conference in Aberdeen on Saturday, First Minister Alex Salmond gave a "cast-iron guarantee" that "a 'Yes' vote in September is a vote to remove these weapons of mass destruction from Scotland once and for all."
'Unacceptable for Nato'
In a further development, a dozen high-ranking defence veterans have written to Mr Salmond claiming a proposed constitutional ban on nuclear weapons in an independent Scotland "would be unacceptable for Nato".
The letter was sent by Admiral Sir Mark Stanhope, former first sea lord and chief of the naval staff.
He wrote: "Were the Scottish people to vote for independence, then Scotland, as a new small nation in an uncertain world, would need international partners to help secure its economic and social objectives and allies to provide national security.
"Nato, as an alliance with nuclear deterrence as a central part of its strategic concept, could hardly be expected to welcome a new member state whose government put in jeopardy the continued operation of the UK independent nuclear deterrent - a deterrent which protects not only the UK but all of Nato as well."
Those also putting their names to the letter also included former chief of the general staff General Sir Mike Jackson, Admiral Lord West of Spithead, and former chief of the air staff, Air Chief Marshal Sir Peter Squire.