Scottish independence: Labour pledge to have 50% women on public boards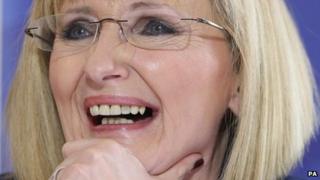 Half of Scottish public boards would in future be made up of women, under a Labour pitch to female voters ahead of the independence referendum.
Shadow Scottish Secretary Margaret Curran also said companies would be forced to publish pay differences between male and female workers.
Scottish First Minister Alex Salmond has said he wants to see company boards made up of at least 40% women.
The battle to win over female voters is seen as crucial to the referendum.
As she launched a series of five pledges, Ms Curran accused her political opponents of failing to ensure and improve equal rights for women.
"During my lifetime, women's rights have been won because of, and not in spite of, being part of the UK," she said.
"From equal pay legislation to tax credits and maternity pay, Labour has always delivered for women by pooling and sharing our resources.
"And no government has dared to turn the clock back on these rights."
Ms Curran said UK government spending cuts had fallen "disproportionately" on women, while Scottish ministers had "failed to make any difference" to the issue.
Labour, in Scotland, pledged to:
Introduce 25 hours of childcare a week for every three and 4-year-old and 15 hours a week for all vulnerable two-year-olds.
Give firms agreeing to pay the £7.65 per hour "living wage" a 12-month tax rebate of up to £1,000 for every low-paid worker who gets a salary rise.
Enact new laws to end "discrimination" against the estimated 5,000 women a year in Scotland who go on maternity leave but never return to work.
Tell companies - or force them through legislation - to publish pay gaps between male and female employees in their annual reports.
Introduce a 50% quota for female membership on public boards in Scotland.
The Scottish government, in its White Paper blueprint for independence ahead of the 18 September referendum, said it would consult on a target for female representation on company and public boards and, if necessary, bring in new laws to ensure they were met.
First Minister Alex Salmond told the SNP conference at the weekend that companies should aspire to at least 40% female participation on their boards.
SNP ministers have also argued they need the powers of independence to bring in a massive expansion of childcare provision, which would help women back to work and boost the economy.