Nicola Sturgeon: On the responsibilities of power and her mentor Alex Salmond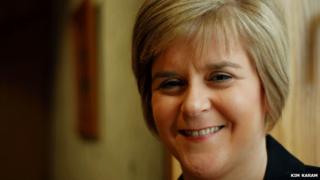 As part of a series of conversations with high-profile women in the independence debate, Deputy First Minister Nicola Sturgeon speaks to the BBC's Marianne Taylor about her passion for reading, the influence of her parents and the big responsibilities of power.

When Nicola Sturgeon joined the SNP, pursuing a career in politics was not her agenda.
"It's easy to forget where the SNP was back when I joined," she explains.
"There wasn't a Scottish Parliament and there was no Scottish Parliament on the immediate horizon.
"The idea that I would have a career in politics was not something that entered my head."
She laughs and adds: "Nobody in my generation of the SNP can be accused of joining up just because we thought we would advance through the ranks."
The teenager from Irvine, Ayrshire, who joined the SNP back in the mid-1980s is now deputy to First Minister Alex Salmond. Her party, in government at Holyrood for the past seven years, has brokered the referendum that will decide whether Scotland becomes independent or stays part of the UK. It's been a significant journey for both.
Deputy first minister since 2007, deputy leader of the SNP since 2004, a former health secretary and an MSP since 1999, Ms Sturgeon is now arguably the most experienced Scottish politician of her generation.
That experience is obvious during the interview - she is relaxed, calm and authoritative throughout, well used to answering media questions and adept at distilling complex thoughts and arguments into precise sentences.
These are qualities that have served the 43-year-old well in handling high-profile and distressing events such as the swine flu outbreak in 2009 and last November's helicopter crash in Glasgow, which killed 10 people at the Clutha Vaults pub.
Asked what it is like to hold considerable power - over multi-million pound budgets, public services and big infrastructure projects - Ms Sturgeon smiles and cringes slightly.
She says: "There's a big responsibility attached to that. I'm not saying you think about it all the time, but you are aware of it. I was health secretary for five years and the responsibility of that was huge. You are very conscious that the decisions you are taking are affecting people's lives in the most personal ways imaginable - life and death in some cases.
"Although I would have loved the SNP to have won the first election of the Scottish Parliament the fact that we didn't, that most of us who came into government had experience in opposition, made a big difference. Experience doesn't always mean you take the right decisions but your instincts get honed."
And would she want the top job? When asked about her biggest influences, alongside her parents Ms Sturgeon mentions the current incumbent in the job, Alex Salmond, calling him her "mentor".
But she says she would relish the opportunity to lead an independent Scotland, describing it as "the pinnacle of everything I've worked for in politics - the independence bit anyway".
For Ms Sturgeon, gaining independence in September is the first priority. The "Yes" campaign is still behind in the polls but gaining ground.
Perhaps frustratingly for the Yes campaign, research shows women are less likely to vote for independence than men.
So, why does the deputy first minister think women voters are lagging behind men in embracing independence?
Interestingly, her answer chimes with that of two of her closest political rivals, Scottish Labour leader Johann Lamont and Ruth Davidson, leader of the Scottish Conservatives, both of whom support a "No" vote in the referendum - though of course she disagrees with them on how this will affect the outcome.
"I think women are naturally more sceptical. I wouldn't use the term 'risk averse' but 'risk aware', perhaps," says Ms Sturgeon.
"Many women have caring responsibilities and they think very carefully about the implications for them of any political decision.
"Many women - and I would include myself in this - are less likely to be moved by the 'big picture' notions of statehood, flags and embassies and all of that and are more likely to ask what does it mean for me, my family, my community?
"The debate is going to develop - it's going to focus on what independence would mean for things like childcare."
She says the SNP has previously reduced a gender gap - from 19% to 3% before the last Holyrood election - and can do so again, adding that achieving this would be vital: "If we can close the gender gap we will win the referendum."
Asked why she believes independence would be good for women, Ms Sturgeon says it's about accountability, and insists her own belief in independence was built on social justice as much as constitutional change, with "one as a means to the other".
"[Independence] is not a magic bullet," she adds. "It's not going to cure all of Scotland's ills overnight, it's not going to guarantee that we will be a prosperous, successful country - no country is guaranteed of that - but it means we're the ones taking the decisions that determine whether we'll be successful or not, fairer or not.
"Nobody has a bigger stake in making Scotland successful than those who actually live here."
As well as making better decisions, Ms Sturgeon also believes the Scottish Parliament is more representative than the House of Commons.
She says the fact that herself, Ms Lamont and Ms Davidson are all at the top of their profession - indeed on the day of the interview, with Mr Salmond on a trip to the US, First Minister's Questions is dominated by the three women - is a good advert for Scottish politics.
And although she laughs at the idea of being a role model - "the very idea scares me" - she says a lack of female political figures when she was growing up means she understands she herself is exactly that to young women in particular.
While discussing the issue she also voices a wish to see an end to the so-called Scottish cringe, the sense of cultural inferiority that many, especially on the pro-independence side, believe holds Scots back.
"We turn on the TV and very rarely hear people that sound like us," she says. "Subconsciously over the years you associate London accents with authority, with people who know what they are talking about. We've got to change that."
For someone who describes herself as a private person, and admits the loss of anonymity - "people watching what you are buying in the supermarket" - is the part of the job she finds most difficult, the constant scrutiny and hype of the next six months is bound to be a challenge.
You get the feeling, however, that Nicola Sturgeon wouldn't want it any other way.
She admits her job is 24/7 in nature but says she makes time every week to shut the door and spend time with her husband, SNP chief executive Peter Murrell, or do some reading, which she describes as her "great passion in life".
Asked whether she has ambitions outside of politics - she trained as a lawyer - she says she will contemplate that at some point, but makes it clear that's not likely to be any time soon.
She jokes that if Scotland does become independent she may bid to become the country's ambassador to Barbados.