Scottish independence: UK 'faces energy blackout risk'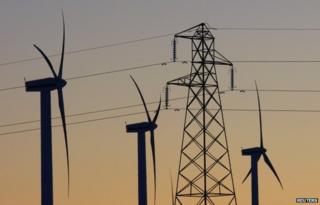 Britain is facing its "highest blackout risk in a generation" because of a failure to guarantee energy needs, the Scottish government has said.
A report published by SNP ministers cited a warning from industry regulator Ofgem that spare generating capacity could fall to as low as 2% by 2015.
The UK government has said that figure did not take into account action it was taking to ensure supplies.
It added that UK energy security was among the best in the world.
The Scottish government report, which comes ahead of the 18 September independence referendum, said Scotland's natural resources could "help keep the lights on and energy bills down".
It stated: "Scotland offers safe and secure supplies of electricity and gas and can assist the rest of the UK in meeting its renewable energy targets.
"The White Paper on independence makes clear that Scotland's energy aims can be fulfilled by the continuation of a single GB-wide energy market for electricity and gas, provided security of supply is not jeopardised.
"However, as a substantial supplier to the rest of the UK, an independent Scotland will require a far greater degree of oversight of the market arrangements for energy and firmer safeguards over Scottish energy security.
"The policies of the UK government have brought us to point where the risk of blackouts is the highest for a generation."
Energy security
Scotland's Energy Minister Fergus Ewing said: "Scotland's huge natural resources mean that we can supply electricity - reliably and affordably.
"This is the case now, and will be the case in the event of independence."
The Scottish government paper came ahead of the latest analysis paper from UK ministers, tied to the referendum, which will say that Scotland benefits disproportionately from renewables investment and from the government's large consumer and tax base when it comes to supporting North Sea oil.
UK Energy Secretary Ed Davey said Ofgem's figure of 2% did not take into account action like bringing mothballed power plants back online and the use of interconnectors with Europe to increase the supplies.
He added: "The UK's energy security is among the best in the world, backed by a large consumer and tax base that can afford to support our world-leading energy industries and make us such an attractive place to invest.
"The broad shoulders of the United Kingdom is unlocking the power of Scotland to take its place as one of the world's great energy hubs - generating energy and generating jobs."