Scottish Independence: Cameron speaks of his 'love' for UK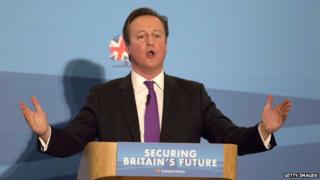 David Cameron has spoken of his love for the "incomparable" United Kingdom as he made a new plea for the Union.
At the Conservative Spring Forum in London, he cited the industrial revolution, two world wars and the NHS among its achievements.
Mr Cameron called the campaign to save the Union "our next big fight".
Responding to the speech, Deputy First Minister Nicola Sturgeon said Scotland needed independence to build a fairer and more prosperous country.
On 18 September voters in Scotland will be asked the "Yes/No" question: "Should Scotland be an independent country?"
The Prime Minister told Conservatives: "Two hundred years ago we were leading the industrial revolution and shaping the world's economic ideas.
"One hundred years ago young men from the Highlands to the Valleys went to war together, and many fell, together.
"Seventy years ago - the D Day landings, the Highlanders running onto the beaches of Northern France to the skirl of the bagpipes.
"Sixty years ago - building the health service that says no matter where you're from or how much you've got, we will look after you."
He added: "This is what I love about our UK. The decency. The family. The solidarity."
'Lecture from London'
Ms Sturgeon dismissed the Prime Minister's speech.
She said: "If the Prime Minister really felt secure in his arguments, he would come to Scotland and debate them with the First Minister and the people of Scotland - instead, he delivers yet another lecture from London.
"Mr Cameron talks about the importance of the health service as he steadily dismantles it south of the border, and he talks about providing help in hard times - as his government's welfare cuts force more and more people in the UK to turn to food banks.
"It is only because Scotland is already effectively independent in terms of health policy that we still have an NHS worthy of the name in Scotland, and we need to control welfare policy too by voting Yes."
She added: "Only independence can allow us to use Scotland's vast wealth to build a fairer and more prosperous country."