Concern over lack of young people in digital sector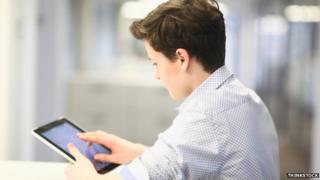 Young men and women should be targeted in an attempt to address a shortage in the "digital economy" workforce, according to MSPs.
Concern is being raised about the lack of under-24s working in Scotland's digital technology companies.
Ministers also highlighted a shortfall of women who are looking to work in the sector.
Scotland's digital sector is predicted to become one of the most important parts of the country's economy.
Career opportunities
Youth employment minister Angela Constance led calls to address the imbalance during a Holyrood debate on the "vibrant and growing" sector.
"It's not just me that's worried, the sector is concerned too," she said.
"With only 14% of the workforce aged 16 to 24 and 17% of the workforce female, we really need to get the message over to young men and women about the fabulous career opportunities in this sector."
Labour MSP Jenny Marra said Scotland, particularly Dundee, takes a leading role in technology.
"It is paramount that now as the industry grows we identify, nurture and promote the talent of our young people to drive that change in coming generations," she said.
Tory MSP Mary Scanlon said fewer students were enrolling to study in associated courses saying the lack of women on relevant courses was "shocking".
She added: "While attitudes are changing, they are changing very slowly."