Scottish independence: Voter registration 'highest ever'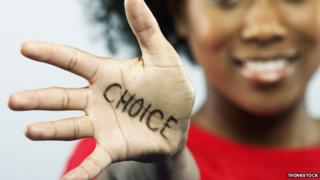 Voter registration in Scotland is the highest it has ever been, as millions sign up to have their say in the independence referendum.
With just under six months until polling day, an estimated 4.1 million people are now on the electoral roll.
That's an increase of nearly 60,000 voters since December 2012.
But the Electoral Commission says there is still work to do, especially in signing up 16 and 17-year-olds who are eligible to vote for the first time.
So far, around 92,000 out of a possible 120,000 have added their names to the list.
I went along to Bellahouston Academy in Glasgow to find out how the process is working.
At 8:50 on a school morning, fifth-year pupils Zain and Connor wander almost sleepily in to the science classroom. One straightening his tie - the other his hair.
The pupils are handed brightly coloured forms and pencils - mostly in the politically neutral colour purple.
This piece of paper is vital if they want a say in their country's future.
And it seems they do.
For Zain it's about voting for independence. "We are the people that can change this election.
"It's important for us to have more power. I want Scotland to have its own say."
For Connor, it's about voting No. "It's our future that's in the balance. A lot of people who are older won't be living in it as much as we will and I'm worried about jobs."
It is thought that 76% of 16 and 17-year-olds have registered to vote. But professor of politics John Curtice from Strathclyde University says more needs to be done.
"Getting three-quarters is a starting point but any electoral procedure which is designed to try and ensure that all those who are eligible are indeed enfranchised and can exercise their vote if they want to - only getting 76% of any electorate, frankly isn't enough," he said.
Electoral registration officers are working in schools, colleges and universities around the country to make potential voters aware that the deadline to register is 2 September.
One of the key challenges is ensuring the 176,000 students across Scotland have a vote.
September is a tricky time. Many are moving into halls or student flats.
I asked one group of four girls over lunch at Glasgow Caledonian University if they had registered. Yes, came the reply.
Valerie Adam told me: "I'm registered to vote, ready to go and I've had the debate regularly with my father over if it's a yes or a no."
Sitting next to her was Nasrin Samedi from Afghanistan. She too is ready to vote and registered at her flat in the city.
"The fact that I have been here for so long does mean it will have an important effect on me," she said.
"Even though I'm from Afghanistan everything that happens here affects me. So it does make a difference for me to give my view."
So Nasrin from Afghanistan has registered to vote - but Jordan Leighton from Greenock did not seem too sure.
He said yes initially, and then admitted he did not know.
"My dad votes at the primary school down the road", he told me.
I told him that to get into the polling station he would need to be on the electoral register.
"Oh", came the reply. It was news to him.
"I've never voted before."
September vote
His friend Alexander McGhee, from Wishaw, was also not on the register.
"I'm going to vote, I've been quite busy though and I will get round to it.
"I will." he says emphatically.
Voters in Scotland go to the polls on Thursday, 18 September, when they will be asked the straight "yes/no" question: "Should Scotland be an independent country."