Plea to rename Prestwick Airport after poet Robert Burns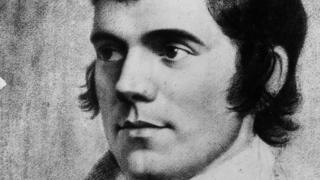 One of Scotland's busiest airports should be renamed in honour of national poet Robert Burns, MSPs at Holyrood have been told.
A petition to rename Glasgow Prestwick Airport as Robert Burns International Airport was discussed on Tuesday by the public petitions committee.
Alison Tait, of the Robert Burns World Federation, said it would help to promote Ayrshire tourism.
The committee will continue to consider the petition.
Robert Burns was born in Alloway, Ayrshire, which is about seven miles away from Glasgow Prestwick.
The airport is Scotland's fourth busiest in terms of passenger traffic, but it has experienced recent financial troubles.
In November last year, the travel hub passed into public ownership after being bought by the Scottish government for £1.
Alison Tait said that rebranding could help the airport and the whole of Ayrshire capitalise on Burns tourism.
She said: "Renaming the airport would immediately identify its geographical location as Burns country.
"It would increase its profile in terms of Burns tourism, which the whole of south-west Scotland could benefit from."
Jim Thomson, vice-president of the Robert Burns World Federation, said renaming the airport wouldn't solve all its problems, but it would help.
He said: "Burns is known worldwide, and people would recognise his name throughout the globe.
"But renaming won't secure the airport's viability alone."
The committee said it was happy to continue considering the petition.