Scottish independence: Hammond challenged over being Guardian source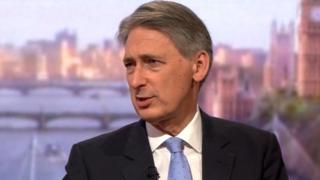 Defence Secretary Philip Hammond has been challenged about being the source of a Guardian story that said a post-Yes Scotland would keep the pound.
Asked by BBC broadcaster Andrew Marr if he had spoken to the paper he replied: "I don't think so."
The Guardian piece quoted an unnamed UK minister saying a currency union might happen if, for example, Trident stayed at Faslane on the Clyde.
The Scottish government said the story proved UK ministers were bluffing.
Voters in Scotland will decide on their country's future on 18 September when they will be asked the "Yes/No" question: "Should Scotland be an independent country?"
The Independent newspaper said the currency story, which was broken by the Guardian on Friday evening, had prompted a witch-hunt by political pundits.
It added that many had pointed to Mr Hammond as a possible source.
During an interview on the Andrew Marr Show on Sunday, the presenter put to the Tory minister: "It has been suggested that a cabinet minister spoke to the Guardian newspaper and implied that Britain and an independent Scotland could after all share the pound, there could be a trade off involving Trident and one of the newspapers has suggested you were the person who spoke to the Guardian."
Mr Hammond responded: "Yes, I saw that. No, I have been in Washington, this last week."
Marr asked again whether the minister had spoken to the Guardian and the politician replied: "I don't think so."
Mr Hammond went on to say: "But let me be very clear about this, when the Euro was introduced we said as a party that a currency union with a fiscal political union will not work.
"We were proven right during the Euro crisis and we are not about to repeat the mistake with Scotland in the unlikely event the Scottish people voted for independence."
The Tory, Liberal Democrat coalition and the Labour Party joined forces last month to say that a currency union would not happen if the referendum returned a "Yes" vote.
But speaking on the BBC's Sunday Politics Scotland programme, First Minister Alex Salmond said claims Scotland could not use the pound had been proved to be "bluff, bluster and bullying".
He said: "What the report [in the Guardian] says is that a minister in the government says that it's a campaign tactic, it's a negotiating position and if a minister in this government says that and believes that then why on earth should the Scottish people be intimidated by a combination of George Osborne and Ed Balls?
"If that's what the people in their own organisation, on their own team believe, then why should we believe any different?"