Scottish Lib Dem conference: Minister Carmichael says 'look beyond referendum'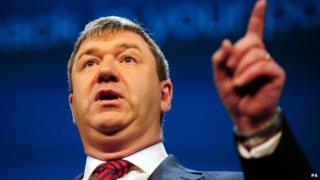 Secretary of State for Scotland Alistair Carmichael has called for people to look at what lies beyond the September independence referendum.
Speaking at the Scottish Liberal Democrat Party conference in Aberdeen, he said the vote could be cathartic and clear the air.
He added that it could be a divisive exercise but need not be "poisonous".
Voters in Scotland go to the polls in just under six months when they will decide on their country's future.
They will be asked the "Yes/No" question: "Should Scotland be an independent country?"
Mr Carmichael told the party event: "A referendum by its nature is a divisive exercise - but it need not be a poisonous one.
"With six months still to go we need to consider how we should use this referendum as a force to unite us rather than to divide us.
"At its best, this referendum can be cathartic for Scotland. It can clear the air.
"A positive vote to stick with the UK family will not only provide certainty and stability for Scotland.
"It will unplug the constitutional blockage and open the way to real progress for people.
"No more arguing over numbers and projections but real freedom to innovate and improve people's lives."
Dream about
Mr Carmichael believes there needs to be a debate around the new powers coming to Holyrood in 2016.
He also thinks it is important to talk about improving healthcare, education and the environment in Scotland.
The minister also told the party delegates that they should not be afraid to admit their party had changed as a result of being in government, but they should celebrate the opportunities it had provided.
He said: "Being a party of government offers us opportunities to make the difference to the lives of our fellow citizens that in opposition we could only dream about and talk about.
"But for all we have changed, at our heart and in our liberal soul we remain the same.
"We may be a party of government but, I tell you this, we shall never be part of the establishment."