Scottish independence: Put your questions to Henry McLeish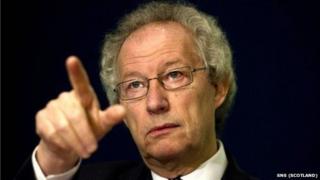 Former Labour First Minister Henry McLeish will be answering your questions in the latest in our series of webcasts ahead of the independence referendum.
The BBC's Isabel Fraser will be putting your points to the Scottish Labour Party politician, author and academic.
The former political heavyweight has been vocal on the topic of the referendum, recently calling on the Labour Party to stop "hating" Alex Salmond, and branding the UK a "union in decline".
He said the pro-Union Better Together campaign had failed to highlight the positive benefits of staying in the UK.
Mr McLeish has also argued that an equivalent to the Scottish government's White Paper should be produced.
He lends his support to a sterling currency union, saying it would be both "workable and achievable".
If you have something to ask Mr McLeish email newsonlinescotland@bbc.co.uk
Please put "Referendum questions" in the message field of your email.
People in Scotland will go to the polls on Thursday, 18 September, to vote in the independence referendum.
They will be asked the "Yes/No" question: "Should Scotland be an independent country?"
The interview with Henry McLeish will be published on BBC Scotland's news website.