Scottish independence: Finance secretary to update oil forecasts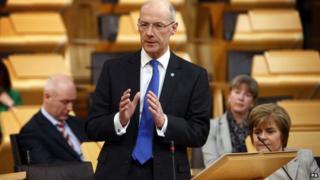 The Scottish government will update its figures on oil revenues, Finance Secretary John Swinney has announced.
Mr Swinney made the commitment during a Scottish Parliament debate led by the Scottish Conservatives.
He was responding to Tory finance spokesman Gavin Brown who called the existing figures "highly questionable".
Mr Swinney said that he could build on figures in the Scottish government's White Paper on independence "now that more data is available".
The MSPs clashed during a debate on financial projections for the country if Scotland votes "Yes" in September's referendum.
"The government intends to publish its third oil and gas analytical bulletin in the coming weeks which will set out the impact that recent developments in the North Sea have on the outlook for future production and revenues as a consequence," Mr Swinney said.
"Now that more data is available we will extend those projections over a number of years, building on the analysis in the White Paper and the central conclusions that Scotland is a wealthy country that will start life as an independent nation with great economic prospects."
Mr Brown said: "More and more analysts are challenging the assumptions made by the Scottish government in its White Paper and in a number of other papers it has produced."
The Conservatives said Scottish government figures for 2016 put oil revenue at £7.9bn but the Office for Budget Responsibility (OBR), set up by the UK government, estimated the figure will be £3.2bn.
Mr Brown added: "This means we have a £4bn black hole between what the OBR are saying and what the Scottish government claims will be the case."
Mr Swinney questioned the OBR's record, claiming that economic growth had undershot the forecasts in each of the past three years.
Also speaking in the debate, Labour's Jenny Marra said the price of oil would continue to depend on factors outside Scotland and the UK.
Liberal Democrat leader Willie Rennie claimed oil revenues had fallen between 2011-12 and 2012-13, showing that revenues were unpredictable.