Transport minister calls on UK government to restrict driving licences for young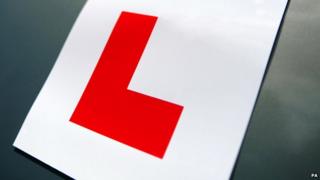 Scotland's transport minister has hit out at the UK government over a "delay" in proposals to restrict driving licences for young drivers.
Keith Brown said he wanted to press ahead with graduated driver licensing (GDL), placing some restrictions on new drivers.
But he told MSPs a promised UK government paper on GDL had yet to materialise.
A private members' bill to introduce GDL has stalled in the UK Parliament.
The Scottish government cannot introduce its own legislation as driver licensing is reserved to the UK government, but the Scottish government tabled a motion at Holyrood calling on Westminster "to develop and take forward proposals on GDL without further delay".
Speaking in the debate on the motion, Mr Brown said: "The Scottish government has listened, gathered evidence and advocated an approach to road safety for young and inexperienced drivers which includes some form of graduated drivers' licence.
"Frustratingly, this is as far as we can go at present because graduated drivers' licences are a reserved issue. Despite our repeated attempts to engage and encourage the UK government to take action on this issue we still don't have the promised green paper setting out the UK government's issue."
Injury accidents
The Scottish government claimed that, despite making up just 10% of licence holders, people aged 17 to 25 account for 23% of drivers involved in road accidents causing injury.
GDL puts certain restrictions on newly qualified drivers and is already enforced in Australia, New Zealand and parts of the USA. Restrictions could include a ban on driving at night, lower maximum speed limits and limiting the number of passengers in the vehicle.
Labour's Mark Griffin, backing the Scottish government's call, said: "I think the statistics speak for themselves - road accidents are the biggest threat to the lives of young people today."
Mr Griffin argued: "The licensing system would aim to enable novice drivers to build up experience through a structured and phased approach."
But the Scottish Conservatives claimed the scheme could have a negative impact in rural areas and penalise safe novice drivers.
Testing process
Conservative MSP Alex Johnstone said: "The testing process appears incapable of identifying young drivers who are most at risk of being involved in accidents."
He said this was because those at risk were often the most confident during the testing process and suggested more training might be the answer.
"I don't believe that we should be able to sit driving tests at any younger than 17, but I can see no harm in allowing drivers, under instruction, to drive at an earlier age - from 16 on a provisional licence, so guaranteeing that our young drivers have a full year under instruction, or at least have the opportunity, before they sit a test," he argued.
Conservative MP Justin Tomlinson has introduced his Graduated Driving Licence Scheme Bill at Westminster, but it does not yet have a date to be debated.
A UK government transport spokesman said: "The safety of young people on our roads is paramount as too many young people die, too often. We are wrestling with how to make things safer while not unduly restricting the freedom of our young people.
"We have agreed to commission research into how telematics can help change the attitudes and behaviour of learner drivers. We are also undertaking focus groups with parents, young people and employers to get a better understanding of the issues from their perspective."