Scottish independence: Former Lib Dem chief backs Yes vote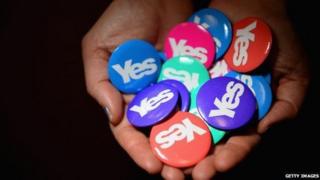 A former chief executive of the Scottish Liberal Democrats has said he will vote "Yes" in the forthcoming referendum.
Andy Myles, who was a special adviser to former Deputy First Minister Nicol Stephen, described the party's plan to build a federal UK as "naive".
He said only independence could bring power "closer to people" in Scotland.
A spokesman for the Scottish Lib Dems said the party was making a "positive case" for home rule.
Mr Myles, who was chief executive of the party in Scotland from 1992-1997 and sat on the Scottish Constitutional Convention, said there was no evidence Scotland would become "a genuinely equal partner" in the Union if it voted "No" in the independence referendum on 18 September.
The Liberal Democrats are members of the pro-Union Better Together campaign, alongside Labour and the Conservatives.
Sir Menzies Campbell recently unveiled the party's latest proposal for federal "home rule", an ambition that dates back to the late 19th Century.
Last week, Labour unveiled its plan for further powers for Holyrood in the event of a "No" vote, while the Scottish Conservatives are due publish to their proposals in the coming weeks.
'Naive hope'
Mr Myles said: "I have come to the conclusion that there is a much better chance of bringing power closer to the people in an independent Scotland.
"I campaigned for a devolved parliament because it brought power back closer to the people, and I thought it might shake-up the UK constitution and lead to major reforms. I now see that this was a naive hope or belief.
"I can see no evidence that it will lead on to a modern British federation, where Scotland is a genuinely equal partner with the other parts of the UK.
"None of the UK parties are even talking about what I consider to be federalism."
A spokeswoman for the Scottish Lib Dems said the party was making "the positive case for home rule to Scotland as part of a federal United Kingdom".
She added: "Consistent polling has shown that this is what the majority of people in Scotland wish to see."
Yes Scotland chief executive Blair Jenkins said: "Gaining the support of Andy Myles is an illustration of the ever-growing appeal of a 'Yes' vote to a wide cross-section of the community."