Scottish independence: CBI claims Yes plans 'do not add up'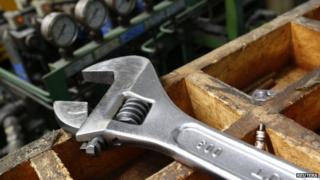 A report from business body the Confederation of British Industry (CBI) has said economic plans for Scottish independence "do not add up".
In its analysis of the Scottish government's White Paper, the CBI said there was "no credible plan" for deficit reduction.
Scotland's Deputy First Minister Nicola Sturgeon called the report "one-sided".
Voters in Scotland go to the polls on Thursday 18 September to decide on their country's future.
They will be asked the yes/no question: "Should Scotland be an independent country?"
The CBI had previously said that it was against independence.
In September last year its president, Sir Mike Rake, said he was not convinced about the economic case for a post-Yes Scotland.
The CBI's 51-page analysis paper looked at a number of issues.
It concluded that;
an independent Scotland would need to prioritise deficit reduction, adding "at the very least it would have to mirror the UK's government's current pace".
given the UK government had ruled out a currency union post-Yes, the Scottish government needed to set out a "credible Plan B".
complex tax rules for cross-border trade "would have to be drawn up and could double the amount of regulation with which firms have to comply".
and an independent Scotland would have to renegotiate EU membership, "which is unlikely to be either a smooth or quick process with new terms potentially leaving it worse off".
The body's director general, John Cridland, said: "The minute you draw a line between Gretna and Berwick, Scotland starts to drift apart from its biggest market and loses a significant amount of economic clout.
"The economic plan outlined in the White Paper does not add up. It ignores the need for deficit reduction, instead promising more unfunded spending."
The CBI added that it was concerned about the negative knock-on effect independence could have on Scotland's major economic sectors - including defence; financial services; energy; food and drink and higher education.
Reacting to the report, Ms Sturgeon said: "The CBI opposed devolution using many similar arguments, which have since been proven to be completely and comprehensively wrong.
"Unfortunately, this paper misrepresents the realities of independence in several key respects - an independent Scotland will still enjoy barrier-free trade with the rest of the UK, which is in everyone's interest - and the only serious threat to our membership of the EU is Westminster's proposed in-out referendum."
Her argument was backed by pro-independence group, Business for Scotland.
It said it believed the country "would be better off financially with the full economic powers of independence".
The head of the Better Together pro-Union campaign, Alistair Darling, said the CBI report was an important one.
Lobby group
He added: "Being part of the UK is good for Scotland's economy.
"It secures thousands of jobs across the country and keeps down costs for families on mortgages, credit card bills, car loans and at the supermarket checkout. Leaving the UK means more costs, fewer jobs and cuts to public services.
"The recent warnings about the risks of separation from Scotland's largest employers, like Standard Life, RBS, shipbuilders, Shell and BP, make clear that independence would cost jobs for thousands of Scots."
The CBI is the UK's biggest business body, representing about 240,000 businesses across the UK.