Scottish independence: Draft written constitution to be published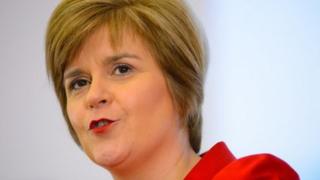 An interim written Scottish constitution will be published this summer, the country's deputy first minister has announced.
Nicola Sturgeon said the draft Scottish Independence Bill will be released for consultation before the Scottish Parliament's summer recess.
It will set out the foundations of an independent Scotland if the country votes "Yes" in September's referendum.
The Better Together campaign said the SNP's timetable had been "discredited".
Ms Sturgeon told an audience in Cardiff: "The bill will set out an interim constitution for Scotland - founded on the principle of the sovereignty of the people - and outline the participative and collaborative process by which Scotland, as an independent country, will prepare its permanent written constitution."
The deputy first minister delivered the Wales Governance Centre Annual Lecture two years to the day that Scotland would become independent under the Scottish government's timescale, if there is a "Yes" vote in the referendum on 18 September.
Ms Sturgeon said: "I believe that Scottish independence will not only benefit Scotland, but also the other nations of the British Isles and the relationship between us," she said.
"The social union that exists between us is strong and I believe independence for Scotland can make it even stronger."
She argued that the approach taken by both the UK government and the pro-Union Better Together campaign towards issues such as Scotland's future currency showed the UK was not an equal partnership.
"Those opposed to independence claim that the UK - as it currently stands - is an equal partnership of nations and of people. But in its attempts to scare voters in Scotland, the No campaign is destroying the very idea that the UK is a partnership of equals."
She continued: "The leaders of the 'No' campaign are going out of their way to demonstrate where they think power really lies.
"As far as the UK government is concerned, power rests with one party in this relationship: with Westminster."
"And we have discovered that as far as Westminster is concerned, people in Scotland have fewer rights than most of us thought."
A spokesman for Better Together, which is campaigning to keep Scotland in the UK, said: "The SNP's timetable for breaking up the UK has been widely discredited, whether it's on EU membership or setting up the apparatus of a separate state.
"The idea that everything will be sorted in just 18 months simply isn't credible.
"Nicola Sturgeon should be honest about the consequences of leaving the UK on our currency, EU membership, pensions and more. Telling us everything will be alright on the night isn't good enough."