Scottish Labour conference: Former FM McLeish says 'stop hating Salmond'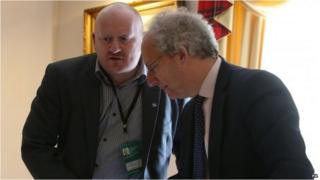 Labour must stop "hating" Alex Salmond and be tolerant of dissident voices on Scottish independence, former first minister Henry McLeish has said.
He also branded the UK a "union in decline", during a fringe meeting at the Scottish Labour conference.
But Mr McLeish insisted he would be voting "No" in the 18 September independence referendum.
Labour's Margaret Curran said the party was working for a "changed" Scotland, as part of the Union.
Mr McLeish, who appeared alongside, Allan Grogan, leader of Labour For Independence (LFI), expressed disappointment with Scottish Labour's commission on bringing new powers to Holyrood, saying: "I think it could have gone further."
He continued: "The union, as far as I am concerned, is in decline.
"The union doesn't have a written constitution. The union is doing nothing about England as part of the wider canvass of issues.
"It's a very vulnerable union and I believe, as part of the next six months, we should be talking about a powerful Scotland and a powerful Union - but the Union has to change."
Mr McLeish, who served as Labour first minister between October 2000 and November 2001 before resigning following a row over his Westminster constituency office expenses added: "It's not Scotland that's out of step with modernity and the future of the Union.
"I believe the union itself is causing a lot of the problems that we are facing."
He added: "I know nothing about LFI, but we need to be a party that is tolerant of dissident voices.
"And a genuine concern I have is 'let's stop hating Salmond and the SNP'.
"I don't like the fact that Salmond won in 2007 and 2011, but let's remember somebody must have voted for him and if you look at the polls just now they are not good for the Holyrood election."
Mr Grogan said it was a "great honour" to speak at a conference fringe of a party whose leader has described his movement as "a joke that you might see in the furthest fringes of the Edinburgh Fringe".
He said: "Labour For Independence consists of members, voters, supporters, former voters who felt the party had left them and not the other way around, trade unionists, councillors, former Lord Provosts and former chairs of the late Scottish Labour Party.
"We believe in the ideals and principles of the Labour Party, but we also believe that independence is the best way forward for Scotland."
Ms Curran, who said she had never previously met Mr Grogan despite her being a Labour member for 38 years, told the fringe meeting: "There's two great deceits being perpetrated in this debate, and we have heard them from Allan and I am a bit disappointed that we have heard them from Henry too.
"And that is somehow that this is a debate between the status quo and independence. It is absolutely not.
"Those of us voting no, those working in Labour are arguing for a changed Scotland and Britain."
Ms Curran, the shadow Scottish secretary, added: "The other great deceit is that somehow that the fight for equality is finished in Britain, which it most certainly isn't, but also perhaps that somehow independence will give us equality."