Former MSP Bill Walker freed from jail after serving domestic abuse sentence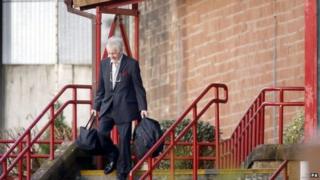 The former Dunfermline MSP Bill Walker has been freed from jail after serving half of his 12-month sentence for domestic abuse.
The 71-year-old was found guilty of offences against three former wives and a stepdaughter.
Walker, from Alloa, was freed from Dumfries Prison at 08:10.
The former politician has always denied the charges and plans to appeal against his conviction. He has a court hearing scheduled for next month.
After a two-week trial in August last year, Walker was convicted of 23 assaults and one breach of the peace which had taken place over a number of decades.
Sheriff Kathrine Mackie found Walker guilty of assaulting his first wife, Maureen Traquair, on three separate occasions in the 1960s and 1980s.
He was convicted of assaulting his second wife, Anne Gruber, 15 times between 1978 and 1984.
On various occasions, Mrs Gruber was punched, slapped, kicked and pushed to the ground. He also breached the peace by entering her home holding an air rifle.
Walker was further found guilty of assaulting and injuring Mrs Gruber's 16-year-old daughter, Anne Louise Paterson, by repeatedly striking her on the head with a saucepan in 1978.
He was found guilty of four assaults on his third wife, Diana Walker, three of which involved slapping or punching her on the face. The attacks happened between June 1988 and January 1995.
The former SNP MSP was suspended and later expelled from the party after the allegations surfaced in March 2012, and he stood for some time as an independent MSP.
Although not legally obliged to stand down from his Dunfermline seat, Walker resigned 16 days after his conviction after facing intense pressure from campaigners and MSPs.
He was released under automatic early release rules.