Scottish independence: Debate not a credit to Scotland, says Swinney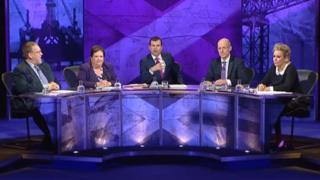 The debate on Scotland's future has not been a "credit" to the nation, the Scottish finance secretary has said.
Ahead of the referendum, John Swinney said there were six months to ensure the debate lived up to the values the Scottish Parliament was based on.
Speaking during a BBC debate, Labour's Jackie Baillie said the campaign had been "partially poisoned", with "a lot of heat" but "not a lot of light".
She said all sides were responsible for being honest and debating fairly.
Their comments came during the programme on Tuesday night, held exactly six months before the 18 September referendum, which will see voters in Scotland asked the Yes/No question: "Should Scotland be an independent country?"
The panel was asked whether politicians had demonstrated the values engraved on the ceremonial Holyrood mace - wisdom, justice, compassion and integrity - in the run up to the referendum.
Good process
Mr Swinney said: "I don't think the debate to date has been a credit to Scotland.
"We have got six months from tonight to make the debate one that lives up to those values of wisdom, compassion, justice and integrity.
"If we do and if everybody goes into the next six months in that spirit, then I think we can have a good process that determines the future of our country."
Labour MSP Ms Baillie added: "I think the debate has been partially poisoned so far. I think there has been a lot of heat generated but not a lot of light."
She added: "I think we all have a responsibility for this.
"A responsibility to be honest, to debate fairly, but I look at companies that stand up and complain and their websites are completely taken down by the most vitriolic complaints coming from a variety of different people that disagree with them."
Ms Baillie also said Scotland needed to be able to move forward, whatever the result of the referendum, adding: "I am really concerned that the debate has become so vitriolic, so intense, that we are actually not going to be able to do that."
Historian Michael Fry, also appearing on the programme, said: "I agree that the debate has lacked something so far, but so far people have just been reacting to what people have said in the debate, whereas the time is coming when we have to decide.
"We have to decide a very serious question and we are tremendously privileged to decide this."
Businesswoman Tessa Hartmann, who also contributed to the TV debate, said of the politicians: "Sometimes we are taken as fools, because they are asking you to take this leap of faith into the dark.
"You don't have the answers and with that comes integrity and respect and wisdom and I think for me to see politicians squabble and fight all the time is part of the game.
"But then every time things don't got the way they want them to and they throw their toys out of the pram and say 'this is scaremongering'. It is just not appropriate behaviour for some statesmen."