Scottish independence: Generation 2014 first time voters question the politicians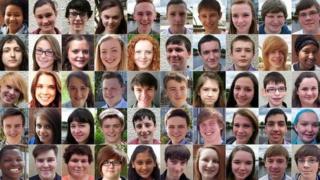 There are six months to go until voters in Scotland go to the polls in the referendum on Scottish independence.
Generation 2014 is a group of 50 young people who will be voting for the first time.
They put their questions to Scottish Labour MP Jim Murphy, representing Better Together and SNP MSP Humza Yousaf, who spoke for Yes Scotland.
Topics ranged from Scotland's future currency and debt to immigration, via tuition fees and Trident.
Relations with the UK
Responding to a question on what relations between an independent Scotland and the rest of the UK would be like, Humza Yousaf said: "We have 300 years of shared history. That social union is extraordinarily strong."
On a vote for independence, he added: "Do we want to make decisions for ourselves and our own interests?
"It's not about breaking away, it's not about putting up borders and barriers. It's actually just about making decisions for ourselves."
Jim Murphy said: "I'm going to vote to remain part of the United Kingdom but if the rest of the United Kingdom became a foreign country to Scotland, then of course we would make it work, in the way that we have to when we form relations with other countries across the world.
"But my argument is that we shouldn't have to. Look how much we have in common with the people on these islands."
Currency and debt
On demands that the pro-independence campaign sets out a "Plan B" on currency if the rest of the UK would not enter a currency union with an independent Scotland, Mr Yousaf insisted a currency union would be in both countries' interests.
He said: "The pound is an international tradable currency. The pound is just as much Scotland's asset."
He added: "If we can't get that asset, the of course we wouldn't be liable for the debt."
Mr Murphy responded: "We trade with Europe massively but we don't join the euro, and the fact that we will continue to trade with the rest of Britain doesn't mean we will continue to have the pound."
He argued it would not be in the interests of an independent Scotland to have the Bank of England, which would become "a foreign bank", setting interest rates.
Tuition fees
The debate over student fees provoked the greatest interest from Generation 2014, with a show of hands illustrating that everyone in the group wanted university study to remain free.
A questioner asked if an independent Scotland would be able to afford to continue the policy.
Mr Yousaf quoted First Minister Alex Salmond, who said: "The rocks will melt with the sun before we bring back tuition fees."
He said "there will never be tuition fees" while the SNP is in power in Scotland and accused Mr Murphy of voting in the UK Parliament to increase tuition fees.
Mr Murphy said: "The Labour Party fought the last Scottish Parliament election campaign on free tuition fees. We haven't changed that policy."
He added: "Come the referendum, the SNP are going to have to be open on just what they can actually afford."
Immigration
Asked if treatment of immigrants would be different in an independent Scotland, Mr Murphy said he hoped Scotland would "have a welcoming attitude to immigration" whether independent or not.
"We should never demonise the immigrant. We should never demonise asylum seekers," he declared.
Mr Yousaf said: "Of course Scotland needs immigration because of our ageing population."
He attacked recent UK immigration policy, saying he had been "disgusted" by the use of posters and vans saying "go home", a policy aimed at illegal immigrants and now discontinued by the UK government.
"'Go home' is one of the worst racist insults I've ever had thrown at me," he said.
Nuclear weapons
Asked how the Scottish government's plan to rid Scotland of nuclear weapons squared with membership of Nato, Humza Yousaf said the policy was in keeping with Nato's aspiration to create "a nuclear free world".
He said: "What better symbol, what better sign, than the day we vote for independence for Scotland, one of the first things we do in a written constitution is say that in Scotland we will no longer have nuclear weapons here?"
Mr Murphy said: "Wouldn't we all like to have a world free of nuclear weapons? It's about how we get rid of them."
He said that the UK should eventually disarm together with all other nuclear powers, but Scotland doing so unilaterally while staying in Nato "doesn't make Scotland safer, doesn't make the UK safer and doesn't make the world safer".