Scottish Independence: Charles Kennedy calls for No to be positive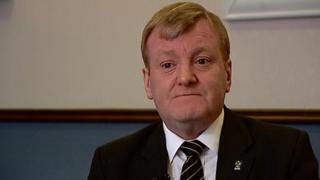 Former Liberal Democrat leader Charles Kennedy has called for No campaigners to be "more positive" ahead of the referendum on Scottish Independence.
The Highland MP said a negative approach from Better Together would not resonate with voters.
He also warned supporters of the Union that interventions by UK government ministers could be counterproductive.
Mr Kennedy called for a "more coherent blueprint" on further devolution to be agreed before September's vote.
Next week, Mr Kennedy hangs up his robes after six years representing the students as Rector of the University of Glasgow.
For the next three years, that seat will be empty following the election of American whistleblower Edward Snowden as Mr Kennedy's successor - Snowden currently has temporary asylum in Russia.
In an interview to mark the end of his term as rector, Mr Kennedy decided not to lecture his opponents but to offer advice to fellow supporters of Scotland's place in the United Kingdom.
When asked about the charge of "negativity" in the No campaign, Mr Kennedy said: "I've made that criticism. I think that we should be more positive in terms of the way in which those of us on the Better Together side are putting over our key messages.
"I think we're right to ask the pertinent questions, of course.
"But if you take, for example, the recent figures on the state of the Scottish economy, the decline in the oil revenues and so on and so forth, I'm not sure that the right response to that from our point of view is to say 'there we are, we told you so, Scotland could never go it alone'.
"I'm not sure that's a resonance that you can establish with the people and I'm not sure it's the right one anyway."
What about the accusation of "bullying" made by the Scottish government and others following UK chancellor George Osborne's speech ruling out a currency union?
Mr Kennedy said: "I don't think that the Scots will feel bullied.
"I think that the national instinct, if you like, is more 'who are they to come up here and tell us what to do?', which is a different mindset.
"I think it's 'we'll make our own mind up, thank you very much'."
After Prime Minister David Cameron told the Tory Conference in Edinburgh that a "No" vote could mean further devolution, Mr Kennedy thinks a more-powers offer should be agreed by the pro-Union parties before Scots go to the polls.
He said: "I think it would be better if we had a more coherent blueprint to put to people, to say, 'voting "No" means "Yes" to this distinct proposition', as opposed to, well, something that will be worked out in due course.
"Because then you're open to exactly the accusation that we're making of the other side."
Mr Kennedy said he did not rule out seeking election to Holyrood in the event of a "Yes" vote but he insisted his attention was on the European elections, next year's Westminster general election and, of course, on the referendum this autumn.
Campaign responses
Responding to the interview, Sarah-Jane Walls of the pro-independence Yes Scotland campaign said: "Mr Kennedy's suggestion that the 'No' parties agree a position on more powers for Holyrood before Scotland goes to the polls in September may be well-meant, but it's also naive and wishful thinking.
"The anti-independence parties cannot agree internally; the chances of them agreeing something together is nil."
She continued: "The only way Scotland will gain the extra powers it needs is with independence."
A spokesman for the pro-Union Better Together campaign said: "What can be more positive than a campaign that is based on working together with family, friends and colleagues across the UK to address the challenges we face?
"Only the nationalists want to create division by walking away from the UK.
"We will continue to make the positive case, but we will also continue to ask the difficult questions about what leaving the UK would mean for Scottish families."