Scottish independence: MPs claim Yes vote would damage education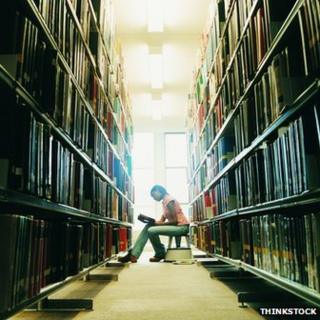 A Westminster committee has said independence would have a damaging effect on higher education and research in Scotland.
MPs on the Scottish affairs committee said the impact would be "far greater than that acknowledged by the Scottish government".
Scottish Education Secretary Mike Russell said the committee was mainly made up of anti-independence MPs.
"It is little surprise their report opposes independence," he said.
Voters in Scotland will go to the polls on 18 September when they will be asked the "yes/no" question: "Should Scotland be an independent country?"
The committee's report said the Scottish government's proposals to make students from the rest of the UK pay tuition fees while allowing free access for students from the rest of the EU "would not be legally sustainable".
It said that based on current student numbers it would cost £150m for Scotland to treat UK students the same as those from the EU.
The report also found Scottish universities currently received 50% more in research grants from the UK Research Councils than they would if allocation of funding was based on population share.
It said the Scottish government must make clear how it would deal with this loss of financial support.
Labour MP Ian Davidson, chair of the committee, said: "Higher education and research is one of the policy areas where the divergence between the assertions of the Scottish government and reality are at their starkest.
"The Scottish government has a clear responsibility to tell the Scottish people how it would manage the damaging effects of changes in higher education and research that separation would bring."
However, Mr Russell said: "With independence, it will be in Scotland's and the UK's interests to maintain a common research area including shared Research Councils. We would negotiate a fair funding formula with Westminster for the future.
"On tuition fees, the requirements of the EU allow for objective justification - that is clear evidence of exceptional circumstances - this is explicitly acknowledged on page 199 of Scotland's Future and also made in independent legal advice sought by Universities Scotland."
A spokesman for pro-independence group, Academics for Yes, said the biggest threat to Scotland's higher education and research sector "comes from further Westminster cuts in 2015".