Scottish Tory conference: Francis Maude says party 'won't duck deficit plans'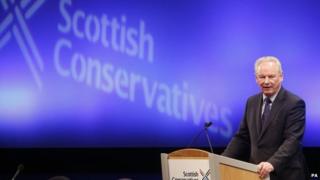 The Conservative Party will not duck its deficit reduction plans and will continue to cut public spending, UK minister Francis Maude has pledged.
The commitment came during his speech to the Scottish Tory conference.
He told the Edinburgh gathering that squeezed public resources would be targeted at those who "need it most".
The Tories, who are currently in a coalition government with the Liberal Democrats, will fight the UK General Election in May 2015.
UK cabinet office minister, Mr Maude, said his party had a long-term economic plan to cut the deficit and "get the whole of Britain back on the rise".
He told the conference that in the first 10 months of government, there were "unprecedented savings of £3.75bn - enough to pay 200,000 junior nurses".
Mr Maude added that in 2011-12 there was a further "£5.5bn - the cost of around 1.6 million primary school places".
The politician said: "We've only just started. I look forward to announcing even bigger savings later in the summer for this financial year.
"By the end of this parliament we want to be saving about £20bn a year, with another £5bn the year after."
He went on: "We need to take the right decisions to ensure that Britain keeps its place in the world, we need to take long-term decisions in the interest of the whole country.
"So, we won't duck our deficit plans - but we will ensure squeezed public resources are targeted at the people who need it most. That's important for the security and peace of mind of all of us."
Mr Maude said that Labour in government spent money like it was "going out out of fashion".
Clear choice
He believed that the Tories in government had a clear choice, either to make "indiscriminate cuts to the front line services" or to "cut the costs of government, clamp down on waste and investing in growth".
The Scottish Conservative conference was opened on Friday by Prime Minister David Cameron.
He told the gathering that Scottish independence would tear apart the UK "family of nations".
Voters in Scotland go to the polls on 18 September when they will be asked the "yes/no" question: "Should Scotland be an independent country?"