Scottish Conservative conference: Party 'fighting fit', says Theresa May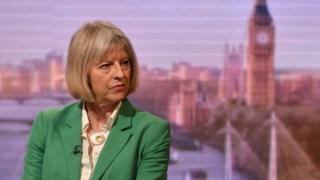 Home Secretary Theresa May has declared the Scottish Conservatives "back and fighting fit" ahead of the next UK election.
She told the party's conference that Scotland's sole Tory MP, David Mundell, "could do with some reinforcements" in the 2015 poll.
Ms May also hit out at her government's Liberal Democrat coalition partners.
She said she would like to see "a lot less yellow" on the UK electoral map in future.
The home secretary also used her speech in Edinburgh to make the case for the union, ahead of the 18 September Scottish independence referendum.
Paying tribute to the party's efforts to improve its electoral fortunes north of the border, Ms May said: "Under the leadership of Ruth Davidson, I know you're showing the energy, vision and determination to win once again as a party - increasing our share of the vote at the last 11 by-elections.
"So, the message this weekend is clear - the Scottish Conservatives are back and fighting fit."
She added: "David Mundell is doing a sterling job fighting for Scotland in Westminster, fighting for our party across Scotland and fighting for the future of the United Kingdom - but he could do with some reinforcements in 2015."
Ms May said she had spent the last four years working with the Lib Dems in the national interest, but added: "Come the general election, I have no qualms about saying that I want to see a lot less yellow on the map of the United Kingdom."
The home secretary also reiterated concerns that, under Scottish independence, police would find it difficult for police to make cross-border arrests and would also lose automatic access to the UK's wider intelligence capabilities, used to fight terrorism.