Scottish Conservative conference: Who was David Cameron's great, great uncle?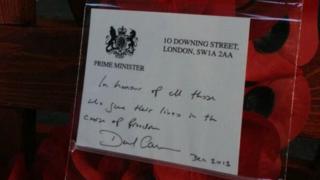 David Cameron made much of Britain's "great and glorious history" during his speech at the Scottish Conservative Party conference.
In particular, he focused on World War One and his pride in his great, great uncle, Captain John Geddes, who died in battle.
The Prime Minister said he was proud of the "extraordinary heroism" of his relative, and the way he represented Britain standing together "when the chips were down".
But who was Captain John Geddes?
'Poison gas attack'
During his speech, Mr Cameron detailed Captain Geddes's heroism during World War One.
He said: "(Captain Geddes) served in the 16th Battalion Canadian Scottish, in one of the most extraordinary episodes of the war - the Battle of Kitchener's Wood.
"On the 22 April 1915, the Germans launched their first poison gas attack on the Western front, leaving a gap in the line 4 miles wide.
"The order was given to two battalions to advance, which they did, without prior reconnaissance, breaking through any obstacles with rifle butts, into a wall of German machine gun fire."
He added: "My relative was the one who helped lead the way."
'Scotch ancestry'
A contemporary newspaper report, from April 26th 1915, said that Captain Geddes was killed, and that he was of Scottish ancestry.
It says: "Captain John Geddes of the 79th Regiment reported killed, leaves a wife and three small children.
"He was born in Chicago of Scotch ancestry, but resided in Winnepeg 12 years, and was prominent in business and social circles."
Captain Geddes is now honoured at the Menin Gate memorial in Ypres, which David Cameron visited in December 2013.
It honours British and Commonwealth soldiers who were killed at Ypres in World War One and whose graves are unknown.
'Never came home'
Of his uncle, Mr Cameron said: "I am proud to be linked, in some small way, to this extraordinary heroism.
"I've been to the Menin Gate and seen the name of Captain Geddes alongside thousands of others. Young men who went away, and never came home."
Mr Cameron added that he believes Captain Geddes represents the British spirit, placing it in the context of Scotland's upcoming independence referendum.
He said: "Captain Geddes is a powerful example it is of how when the chips were down, the stakes were high, and the cause just - we stood together."
The Scottish Conservative conference continues until Sunday.