Scottish Enterprise report backs film studio plan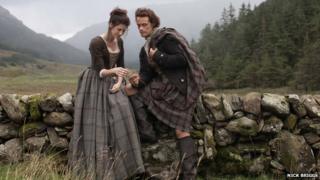 Scotland should have its own film studio, a report commissioned by Scottish Enterprise has said.
It recommends encouraging private-sector proposals, with public bodies drawing up an alternative plan.
The report found tax incentives have created a "surge of interest" in filming, driving demand for studio space in Scotland.
The public sector has provided £60m of support for the screen industry over the past three years.
In addition to feature films, Scotland has found favour with major television productions such as the US series Outlander.
The Scottish Enterprise report was commissioned in partnership with Creative Scotland and the Scottish government.
Dedicated studio
Director of Creative Industries at Scottish Enterprise David Smith said: "This report gives us a sound understanding of Scotland's options in developing a dedicated film and TV facility.
"From here, we can move quickly towards the next phase of work to establish interest from the private sector and develop a robust business case for public sector investment."
The "foundation studio" option recommended in the report is estimated to require a budget of about £15m.
Culture Secretary Fiona Hyslop said: "These are very exciting times for the audio visual sector and we're seeing an encouraging growth in high-end television production in Scotland.
"We have much to gain by supporting those who want to create - not just because that will support our creative economy - but because, most importantly, we value their cultural contribution."