Scottish independence: Rise of the town hall meeting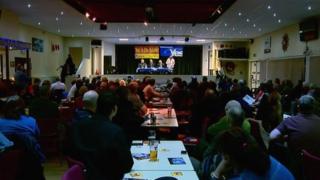 The independence referendum has heralded what some are calling a grassroots revival - the return of the public meeting.
Hundreds of people are packing into town halls to listen to campaigners try to persuade them to vote for their side in the most important vote in Scotland's history.
It's a level of engagement in politics which one academic believes hasn't been seen in Britain for 40 years.
At an event in Glenrothes organised by the Pro-independence Yes Scotland campaign, I could tell the speaker was nervous. Grandmother Lorna Bett told me she wasn't used to talking on stage.
But there she was, microphone in hand, speech in bold print before her, addressing a crowd of more than 100.
"I only have what is in my heart," she told them.
She warned she was "one of those emotional voters", but the audience seemed to love her.
Even a man who had found a solitary space at the back of the hall put down his pint to applaud.
True, she may have been preaching to the converted - many were wearing multi-coloured "Yes" badges and hats and had already decided which way to vote.
But then came the questions from the undecided: If we don't get the pound, where do we go? I've got an MoD pension, which government is going to pay my pension and continue it?
What are we going to do about big businesses bailing out of Scotland if independence comes along? What are the benefits to Scotland of retaining EU membership?
Yes Scotland chief executive Blair Jenkins and Allan Grogan, from Labour for Independence, both gave replies.
There were not enough facts and figures for one woman, who kept shaking her head.
I asked people as they filed out the door if the meeting had helped.
"No, not really," came the reply from one man. "It was good to hear other people's point of view, but it was basically a propaganda meeting.
"It would be good if the 'No' and the 'Yes' campaigns could get on the same platform and come to towns."
However, another voter had been persuaded by the "passion and enthusiasm". She had just dropped by out of curiosity.
"The leaflet dropped through the door and I thought I don't really know what is going on," she said.
"I need to go and find out for myself to make a decision. I will go to a 'No' meeting to hear what they have to say."
The pro-Union Better Together also holds public meetings.
While the next one organised by Better Together is advertised on its campaign website for next month, in just one week in March, Yes Scotland had organised meetings in Maidens in Ayrshire, Glenrothes, Helensburgh, Caithness and Rothesay.
Former prime minister Gordon Brown, meanwhile, under the banner United with Labour, will host a series of old style hustings events across the country to talk about his vision for more powers for the Scottish Parliament.
But what real impact can these meetings of maybe a few hundred people have in the 21st Century when you can reach hundreds of thousands online or in just one television programme?
Prof James Mitchell, from the school of Social and Political Science at the University of Edinburgh, sounded a note of caution.
He said: "We should be very careful here. Even with these large public meetings, it's still a tiny, tiny proportion of the electorate which is turning out.
"The 'No' campaign seems to be waging more of an air war using the media and pretty effectively. Mass media is still hugely important. You need to do both."
Prof Mitchell said he had not seen this level of political engagement since the 60s.
"We all thought that the days of the big public meetings had died," he added. "Hundreds of people are turning out in small towns for not necessarily big names.
"It's certainly generating interest among the activists. It's encouraging people to become active. We don't know what they do after a public meeting. Do they speak to their friends, their neighbours? That's the hope of the 'Yes' side."
The meeting I had been to was just a snapshot of one hall, on one night, in one town.
But it is clear that, away from the dispatch boxes in Westminster and Holyrood, something is stirring in the communities of Scotland as the people try to decide how to cast their vote on 18 September.