Scottish independence: Scotland could not keep the pound, says George Soros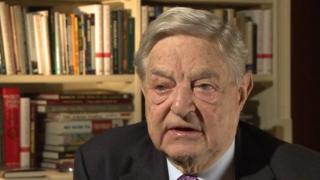 Billionaire investor George Soros has said he does not think it would be possible for an independent Scotland to keep the pound.
Mr Soros said a separate currency would be "potentially dangerous" and suggested Scotland joined the eurozone.
The pro-Union Better Together campaign called the comments "another blow to Alex Salmond's economic credibility".
But the pro-independence Yes Scotland campaign insisted sharing the pound would be "the most sensible option".
'Difficult relationship'
Investor and philanthropist Mr Soros, now retired, addressed the think tank the European Council on Foreign Relations in London at the launch of his new book on the European Union.
Mr Soros is known for speculating against the pound in 1992, contributing to its collapse and exit from the European exchange rate mechanism (ERM), the forerunner of the euro.
He said: "Scotland wants to remain a part of the [pound] sterling and Britain is creating obstructions to that.
"It would be a very difficult relationship and I don't think that Scotland becoming independent and yet remaining part of sterling is actually possible."
Last month, UK Chancellor George Osborne ruled out sharing the pound in a currency union if Scots vote for independence from the UK in September's referendum. His position was backed by Labour and the Liberal Democrats.
Mr Soros continued: "The alternative would be for Scotland to seek membership of the European Central Bank and then it would be part of the eurozone.
"I think an independent currency would be very inefficient and potentially dangerous."
Plan B
Conservative MSP Murdo Fraser, speaking for Better Together, said: "Last week one of the world's largest banks said it was 'astonished' by Alex Salmond's failure to set out a Plan B on currency.
"Yesterday the governor of the Bank of England said we would have to sign up to the euro as a new EU member. And now today one of the world's largest investors says we would need to join the euro.
"Only in Alex Salmond's world are all these people wrong and he alone is right.
"The people of Scotland deserve to know what the Plan B on currency is. Would we rush to adopt the euro or would we set up an unproven separate currency?"
A spokesperson for Yes Scotland said: "Sharing the pound in a formal currency union is the most sensible option, both for an independent Scotland and the rest of the UK.
"This is the position set out in the Scottish government's White Paper: Scotland's Future on the advice of leading economic experts, including two Nobel laureates.
"After a 'Yes' vote, sensible economic decisions will take the place of political posturing aimed at trying to secure a 'No' vote and the two governments will work in the best interests of all the people of these islands."