Scottish independence: Glasgow students 'vote' on the referendum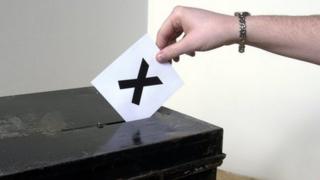 Students in Glasgow have been "voting" on Scottish independence - with opposing results.
A mock referendum at Glasgow Caledonian University rejected independence, with 63% of students voting to remain in the UK.
Meanwhile, Muslim students at Strathclyde University backed independence following a debate, with 68% in favour of a "Yes" vote.
Voters go to the polls for real on 18 September.
In the run-up, young people across the country have been taking part in debates and mock referendums in schools, colleges and universities.
About 1,500 students took part in the mock vote at Glasgow Caledonian University.
The smaller event at Strathclyde University, run by the Federation of Student Islamic Societies, heard from panellists including the Scottish government's external affairs minister Humza Yousaf, who spoke in favour of independence, and Anas Sarwar, Scottish Labour's deputy leader, who argued that Scotland should remain part of the UK.
Last month, both the University of Glasgow and the University of Strathclyde held referendum votes.
The majority of Glasgow University students - 62% - voted to stay in the Union.
Students at Strathclyde, meanwhile, backed independence, by 47% to 40%. The remaining 13% were undecided.
A spokesman for the pro-independence Yes Scotland campaign said support was growing among young people.
He added: "When 'don't knows' are excluded, Yes Scotland is polling above 40%.
"A poll at an Engender Scotland women's event at Glasgow City Chambers found a majority in favour of 'Yes', and a debate at Strathclyde University between Humza Yousaf and Anas Sarwar among the Muslim community also concluded with majority support for independence.
"Recently, Ayr College and Prestwick Academy both saw swings of undecided and 'No' voters to 'Yes' after debates between representatives of both campaigns."
A spokesman for the pro-Union Better Together campaign said young people did not want to "gamble" with their future.
He added: "It's great to have the support of the vast majority of students at Glasgow Caledonian University.
"After big wins in the mock referendums at the University of Glasgow and across Aberdeenshire schools, for those of us who want Scotland to remain in the UK it is clear young people know that being part of something bigger brings greater opportunity.
"Students simply don't want to gamble with their future. We are stronger and better together."