Scottish independence: Campbell report to call for 'missing' tax powers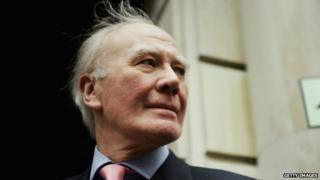 The Liberal Democrats are to call for the "missing" powers to raise and set taxes to be delivered to Holyrood.
The party will call for cross-party support and lay out a route map for extended tax powers, in the event that independence is rejected in September.
Senior Lib Dem MP Sir Menzies Campbell said the majority of people in Scotland favoured enhanced devolution.
He has chaired a party commission which outlined plans to devolve new tax powers, on the way to a federal UK.
'Momentous opportunity'
Sir Menzies has now updated that report to suggest ways in which the plan could be implemented through cross-party co-operation.
It will also suggest a timeframe in which new powers could be delivered "swiftly" in the event of a no vote.
Sir Menzies said: "This is a momentous opportunity to grasp the growing consensus on more powers.
"In the event of a no vote in 2014, we can move swiftly towards delivering what we know that majority of people in Scottish wish to see.
"That is, a stronger Scottish parliament within the United Kingdom family of nations."
Details of the report will be published on Monday.
'Size of cake'
Speaking to the BBC's Sunday Politics Scotland programme, Scottish Lib Dem leader Willie Rennie said he believed a "massive shift of gravity" in the debate made more powers inevitable and he has asked Sir Menzies to draw those arguments together.
Mr Rennie said: "He's going to set out a timescale and he's going to set out a route map for more powers for the Scottish parliament.
"What Ming will do is set out, in quite a bit of detail, actually what we want to do as the next stage towards more powers.
"People like the Scottish Parliament but what they know is there's something missing and what is missing is the ability to raise and set our own taxes, so that we not only decide how to cut up the cake but we also determine the size of the cake for the Scottish Parliament."
Mr Rennie said he was confident there was a considerable degree of overlap between parties in support of more powers.
A spokesman for Deputy First Minister Nicola Sturgeon said: "The Lib Dems have been promising Scotland Home Rule for well over 100 years. Their failure to deliver it - even when they were in government - shows how little commitment they have to more powers for Scotland."
The independence referendum will be held on 18 September, when voters will be asked the yes/no question: "Should Scotland be an independent country?"
A recent social attitudes survey found "Devo Max" - the devolving of all powers to Holyrood other than defence and foreign affairs - the most popular option for Scotland, by a small margin, over full independence or the status quo.