Scottish independence: Salmond not committing to 50p tax rate post-yes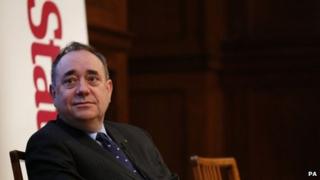 First Minister Alex Salmond has told a gathering in London he would not commit to a post-yes Scotland reintroducing the 50p rate of income tax.
He was asked the question after he delivered his New Statesman lecture.
The SNP leader said there was no plan for a post-yes Scotland to put itself "at a tax disadvantage with the rest of the UK".
But Labour's Shadow Scottish Secretary Margaret Curran said his answer "made clear" he was on the Tories' side.
Last year the Conservative/Liberal Democrat coalition government reduced the top rate of tax from 50p to 45p.
But at the beginning of this year Labour pledged to restore the rate to 50p, with Shadow Chancellor Ed Balls saying that "those with the broadest shoulders" should bear a "fairer share of the burden".
After Mr Salmond's speech, journalist George Eaton asked the first minister whether he would follow Labour's commitment.
The politician replied: "In terms of the White Paper [on Scottish independence] we said that we don't have proposals for changing taxation, we certainly are not going to put ourselves at a tax disadvantage with the rest of the UK."
'Broadest shoulders'
Ms Curran responded by saying: "Alex Salmond made clear whose side he is on. He's with George Osborne - siding with millionaires instead of hard-working Scots.
"Labour would reintroduce the 50p tax rate because we believe those with the broadest shoulders should bear more of the burden for reducing the deficit.
"And just like Alex Salmond won't give a straight answer to ordinary Scots about the currency, he won't tell them which of their schools and hospitals he would cut to give big companies and millionaires lower taxes in a separate Scotland."
During his speech Mr Salmond said he believed that an independent Scotland would be a "powerful economic counterweight to London", and said that would benefit the rest of the UK.
He told his audience: "There's a growing realisation that wealth and opportunities are too concentrated, geographically and socially. UK government policies are working for too few, and denying opportunities to too many. Britain is imbalanced.
"After Scottish independence, the growth of a strong economic power in the north of these islands would benefit everyone - our closest neighbours in the north of England more than anyone.
"There would be a 'Northern Light' to redress the influence of the 'dark star' - rebalancing the economic centre of gravity of these islands."