Scottish independence: IFS updates post-Yes fiscal forecast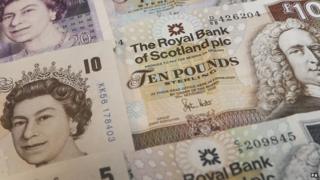 The economic outlook for an independent Scotland looks better than previously forecast but still relies on spending cuts, according to a think tank.
Analysis by the Institute for Fiscal Studies also said Scottish government oil forecasts seemed "too optimistic".
The Scottish government said Scotland could more than afford to be independent.
Alistair Darling of the Better Together campaign said spending cuts were "the last thing families need".
The referendum on Scottish independence will be held on 18 September, when voters will be asked the yes/no question: "Should Scotland be an independent country?"
The IFS said it had revised its more cautious fiscal forecast because the UK economy was growing more quickly than previously thought.
'Good news'
The latest analysis stated: "The latest [Office for Budget Responsibility] forecasts for the UK's public finances imply a slightly stronger fiscal position for a potentially independent Scotland in the medium-term than their previous forecasts suggested, although with higher borrowing over the next couple of years.
"This is good news but would require the government of a newly independent Scotland to continue with the spending squeeze currently planned by the UK's coalition government."
The analysis also looked at predictions for oil revenues over the next few years.
The UK Office for Budget Responsibility (OBR) has revised its oil forecast downward from £4.5bn to £3.3bn in 2016/17, meaning the the Scottish government's forecasts "look to be too optimistic", the IFS said.
Scottish Finance Secretary John Swinney has previously said the OBR's predictions were not consistent with industry expectations for production or current price trends.
The Scottish government's White Paper for independence, published in November, presented figures forecasting Scottish oil and gas revenues to be between £6.8bn and £7.9bn in 2016-17.
The IFS said the OBR forecast highlighted the "sensitivity of Scottish public finances to oil revenues".
It added: "Neither the OBR nor the Scottish government can know for sure what will happen to these revenues.
"What is clear is that fiscal decisions in an independent Scotland would need to be taken in the context of considerable uncertainty over this very important part of the budget, and in the context of long term pressures both on these revenues and arising from an ageing population."
'Investment boom'
A Scottish government spokeswoman said Scotland could "more than afford to become an independent country".
She added: "As Standard and Poor's noted last week, even without North Sea oil and calculating per capita GDP only by looking at onshore income Scotland would qualify for their highest economic assessment.
"Per capita tax receipts in Scotland have been higher than in the UK in each of the last 32 years.
"The latest Government Expenditure and Revenue Scotland figures show that Scotland has been in a stronger fiscal position than the UK equivalent to £12.6bn over the period 2007-08 to 2011-12 as a whole.
"The North Sea oil and gas sector is also currently going through an investment boom with a record £14.4bn of capital investment in 2013.
"This investment is likely to have a positive impact on North Sea oil and gas production for years to come."
'Unrealistic estimates'
Alistair Darling, leader of the pro-Union Better Together campaign, said the IFS figures showed there would need to be "big spending cuts and tax increases" in an independent Scotland.
He added: "The last thing struggling families need is more cost and more cuts just to pay for independence.
"The experts also criticise the SNP's unrealistic estimates for oil and gas.
"This means big cuts to the budget for our schools, hospitals and pensions and big tax rises for working people.
"Oil cannot pay for everything as the nationalists pretend and while independence would be forever, oil will run out.
"The SNP will need to rewrite their sums ahead of the publication of the annual latest GERS figures on Scottish spending next week."