Early sectarian law review ruled out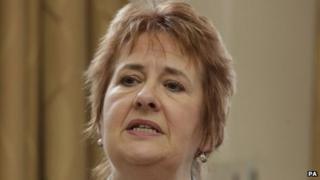 An early review of controversial laws on cutting religious sectarian abuse at football games would be nonsensical, the minister in charge has said.
Roseanna Cunningham rejected suggestions to look at the legislation ahead of a previously agreed August 2015 deadline.
Ms Cunningham told MSPs the review in hand would be a "solid piece of work".
Fans groups have raised concern about the laws, brought into force in 2012, and Celtic urged an immediate review.
The Offensive Behaviour at Football and Threatening Communications Act gave police and prosecutors additional powers to crack down on sectarian songs and abuse at football matches.
The legislation, which also aims to stamp out threatening behaviour posted on the internet or by mail, was passed with an agreement that the Scottish government would review it after two seasons and report back to parliament.
Legislation 'tweaks'
It created two distinct offences, punishable through a range of penalties including up to a maximum five years in prison and an unlimited fine.
The Scottish Parliament justice committee previously considered an early review after hearing representations from the fans who said the laws were having a disproportionate impact on ordinary supporters.
Ms Cunningham told the committee the Stirling University researchers conducting the review would not have all the information they needed until August this year.
The community safety minister added: "I just don't really see any great need for that to be changed.
"I couldn't now step in and ask them to do something differently to what they've been instructed."
'Independent researchers'
The minister added:"That process, because it's being done independently, because it's being done through Stirling University, is going to give a proper, comprehensive, quality-assured, evidence-based evaluation which will be - I hesitate to say incontrovertible, because nothing is ever incontrovertible - but it will be as solid a piece of work as you could possibly expect."
Asked if anything could happen before the 2015 deadline, such as an interim report, Ms Cunningham replied: "No, it would be nonsensical to do something while this review was ongoing when we know the review is going to be published - they're the independent researchers, they're the ones that will be able to tell us something needs to be tweaked or not."
In response, Celtic Football Club called for a review of the Act's "unhelpful and counter-productive" impact to be brought forward.
A statement added: "Celtic have all along opposed this legislation which has been used to create a general presumption that different laws should apply to football supporters as distinct from society as a whole.
"This has inevitably led to a sense of discrimination across Scottish football and has brought the law into disrepute when tested in the criminal courts.
"It has also acted as a barrier to our own efforts to encourage supporters to behave in a way which is consistent with the club's proud history and reputation."