Scottish independence: Put your referendum questions to George Galloway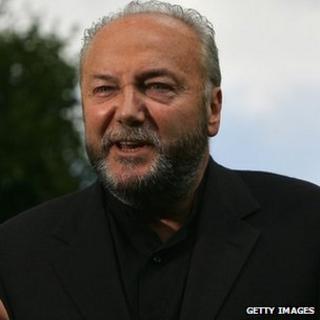 The latest in our series of independence referendum webcasts will see outspoken MP George Galloway answering your questions.
The BBC's Bill Whiteford will be putting your points to the pro-Union Scotsman who is currently a Respect Party MP for Bradford West.
Mr Galloway has had a long career in politics which started at the 1987 general election when he was elected a Labour MP for the seat of Glasgow Hillhead. After boundary changes he went on to represent the constituency of Glasgow Kelvin until 2005.
In October 2003, the politician was expelled from Labour after being found guilty of bringing the party into disrepute.
Mr Galloway joined the Respect Party and was elected MP for Bethnal Green and Bow at the 2005 general election.
He unsuccessfully contested the seat of Poplar and Limehouse in 2010, followed by an unsuccessful bid to become an MSP on the Glasgow regional list in the last Scottish Parliament election.
Mr Galloway returned to Westminster after winning the Bradford West by-election in March 2012.
The politician does not have a vote in the referendum but he believes Scotland should remain part of the UK.
If you have something to ask Mr Galloway email newsonlinescotland@bbc.co.uk
Please put "Referendum questions" in the message field of your email.
Scotland's electorate will go to the polls on Thursday, 18 September, to vote in the independence referendum.
They will be asked the Yes/No question: "Should Scotland be an independent country?"
The interview with Mr Galloway will be published on BBC Scotland's news website.