Scottish independence: Campaigns mark 200-day milestone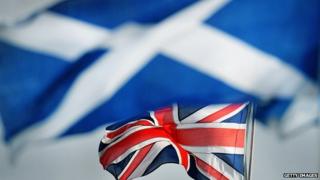 Both sides of Scotland's independence debate have marked the campaign entering its final 200 days.
On 18 September, voters in Scotland will be asked the straight Yes/No question: "Should Scotland be an independent country?"
Deputy First Minister Nicola Sturgeon said only a Yes vote would secure the powers Scotland needs.
Backing a No vote, Scottish Secretary Alistair Carmichael urged people to use their vote "wisely".
Ms Sturgeon criticised the unionist parties for not putting together a joint package on additional powers for Scotland in the event of a No vote.
She is to deliver a speech on the issue on Monday in which she will claim the separate unionist proposals have no guarantee of delivery and would mean that "responsibility for the vast majority of Scottish taxes would remain with Westminster".
In a text of the speech released in advance she said: "That means we would not retain the benefits of our investment in childcare, nor the benefits of savings to welfare payments from getting more people into work.
"And we would remain powerless to protect Scotland from Westminster's dismantling of the social security system."
Ms Sturgeon added: "It is also the case that the option of more powers is not on the ballot paper in September - meaning that there is no way for the people of Scotland to guarantee that any offer of more powers will actually be delivered.
"The simple fact is that only a Yes vote will secure the powers Scotland needs."
'Fast approaching'
Mr Carmichael insisted that "independence would have far-reaching consequences" for Scotland, as he argued the nation was "stronger and more secure as part of a United Kingdom".
With the referendum "fast approaching" he said it was time for everyone to "turn their attention to how they intend to vote"
Mr Carmichael said: "This is not a decision to be taken lightly - we cannot afford to gamble with our nation's future - so that means making an informed choice and to do that we all need to get the facts.
"And nobody should think that this is not a decision that matters for them.
"Crucial decisions - like whether you keep the UK pound in your pocket and who will be a British citizen - rest on this vote."
He added: "This ballot is not won and the outcome will not be decided until the last vote is cast. Everyone who has a vote should use it - and use it wisely."