Scottish independence: On the road with the Yes campaign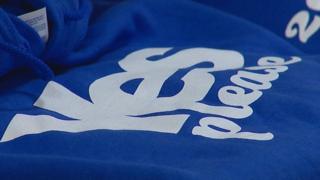 With less than 200 days to go until the Scottish independence referendum, both campaigns - pro-independence Yes Scotland and pro-Union Better Together - are ramping up for the final push.
Voters go to the polls on 18 September.
The BBC's referendum correspondent Laura Bicker went behind the scenes - and out on the road - with both campaigns, to see how the different messages are going down with voters.
Here, Laura pounds the streets with Yes Scotland campaigners in Glasgow. On Tuesday she will write about her time with Better Together.
Yes Scotland isn't just a movement - it feels like a brand.
Its headquarters in Glasgow's Hope Street is designed to beckon you in, to buy and believe.
On the shelves there are T-shirts urging you to imagine. Caps to help you belong. Keyrings, wristbands and limited edition posters - all available at a price.
From here, staff co-ordinate more than 300 community groups.
Ross Greer, 19, is one of the "community assistants". He says the scale of the grassroots campaign is unprecedented.
"It is massive," he adds. "There are tens of thousands of volunteers. If this office stopped functioning tomorrow, a lot of those groups would continue campaigning right up until polling day."
'Reach out'
It is this connection with community that Yes Scotland's chief executive Blair Jenkins believes will allow them to reach out to those who don't usually vote in elections, the so-called missing millions.
"All the evidence we have would suggest that if we could get people who are perhaps traditionally non-voters to vote in this referendum, then they are much more likely to vote Yes," he says.
"They don't believe they have any influence, they don't believe their vote counts, they don't believe the things they really care about are much affected by who happens to win in a UK general election.
"What we are saying is, this is different."
That night in Easterhouse, one of Glasgow's most-deprived housing estates, around 50 campaigners converge on a shopping centre car park.
Many of them are from the Radical Independence Campaign, which supports a left-wing vision of an independent Scotland.
They are all ages, from all backgrounds, and many of them vote for very different political parties.
But tonight they all wear the same sticker, put there diligently by a 10-year-old girl desperate to be a part of the excitement.
Leaflets are handed out and routes are mapped for canvassers. Pictures are taken for social media sites before the real work begins.
A third of households in Easterhouse live on benefits and crucially only a third of people voted in the last Holyrood election.
Yes Scotland supporter Anne McLauglin, a former SNP MSP, wants to change that.
'Conversion'
She has been pounding these streets for the last year, and calmly stops to chat to a man who has just been chucked out by his girlfriend.
"Do you know how you're going to vote?" she asks.
I watch the conversation. Her tone is gentle, listening. I already know that campaigners aim to nudge voters towards independence and initially they just want to get them talking.
Despite being surrounded by bin bags full of his own clothing, Brian is keen to talk and wants more information. She promises to come back and talk to him.
This is conversion-by-conversation.
The Electoral Commission says 10% of people in Scotland are not registered to vote - that's about 400,000 potential ballot papers to be crossed.
Then there are those who do not vote; in 2011 the overall turnout was just 50%.
As we walk and talk, Anne says: "A lot of people are not registered to vote because they don't see the point. What we are saying to them is, there really is a point in you voting this time.
"You're not voting for a political party, you're not voting for a politician, but you are voting for something that would be the biggest change that Scotland has seen in your lifetime."
Yes Scotland is selling a particular brand of optimism door-to-door.
"Just Imagine" say the T-shirts sitting on the shelves in Hope Street.
If Yes Scotland manages to mobilise some of these "missing millions", they may not need to imagine any more.