Scottish independence: Douglas Alexander urges Labour to 'act boldly' on devolution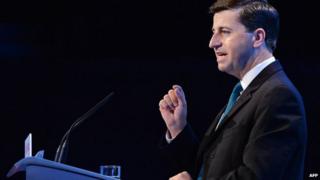 Labour should "act boldly" and offer Scotland further devolved tax powers, shadow foreign secretary Douglas Alexander has said.
Mr Alexander made the comments ahead of a speech setting out his views, as Scottish Labour examines devolution.
He will call on the party to consider tax and employment policy and the running of elections.
But the pro-independence Yes Scotland campaign said Scotland needed "the full powers" of independence.
Scottish Labour's devolution commission, due to report next month, is examining the options for further devolution of powers to Scotland.
Speaking to BBC Radio's Good Morning Scotland programme, Mr Alexander said: "There is a better choice for Scotland, which is to see enhanced devolution within the United Kingdom, which genuinely gives people a sense of control over some of the key issues in their lives here in Scotland, but not at the cost of the strength, security and stability of the United Kingdom.
"We should be prepared to look at how we can enhance and strengthen the devolution settlement within the UK."
The MP for Paisley and Renfrewshire South continued: "In the speech that I am making this evening I will urge my colleagues in the devolution commission to range widely and to act boldly.
"That means in considering taxation, employment and skills policy, the responsibilities of the Crown Estate, the running of elections."
New powers
Yes Scotland's chief executive, Blair Jenkins, said: "Scotland needs the full powers of an independent Scotland to succeed, and Scots are rightly sceptical of the 'No' campaign coming up with more powers for the Scottish Parliament.
"More and more people are realising that only a 'Yes' vote can deliver transformational change in Scotland. Change that gives our parliament the potential to increase and pay for increased childcare provision, rid our country of weapons of mass destruction, and the powers not to get dragged into illegal wars."
The Scotland Act 2012 has given new powers to the Scottish Parliament, but Holyrood will not be able to use them until 2016.
As well as bringing in a new Scottish rate of income tax and borrowing powers worth £5bn, the act will hand powers over air guns, drink-driving and speeding limits to Holyrood.
It will also devolve stamp duty, land tax and landfill tax, and give the Scottish Parliament a role in appointments in broadcasting and the Crown Estate.
Labour is examining further devolution ahead of the September referendum on independence.
Voters in Scotland will be asked the Yes/No question: "Should Scotland be an independent country?"