Scottish independence: Standard Life may quit Scotland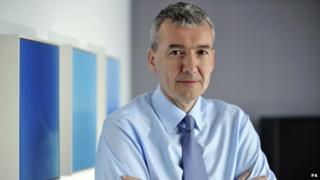 Standard Life's announcement that it may move operations outside Scotland in the event of independence has sparked a political row.
The company said it would take whatever action it considered necessary to protect the business.
The Scottish government said the move demonstrated its post-Yes currency union plan was the right option.
Deputy Prime Minister Nick Clegg said it showed SNP ministers were failing to explain the independence argument.
The intervention came ahead of the Scottish independence referendum, on 18 September.
Edinburgh-based Standard Life - which has been based in Scotland for 189 years - employs about 5,000 people in Scotland out of a total headcount of 8,500.
The company's concerns came on the day of its annual results, reporting operating profits of £751m - a fall of 13% on a year earlier.
The intervention came amid a vigorous debate over the currency of an independent Scotland.
In the event of a referendum "Yes" vote, the Scottish government wants to keep the pound as part of a formal currency union with the rest of the UK - but the three main Westminster parties - the Conservatives, Labour and the Liberal Democrats, have said they would not support such a move.
Standard Life has started work to establish additional registered companies to operate outside Scotland, into which it could transfer parts of its business.
Its annual report said Scotland had been a great base for the company, but added, "if anything were to threaten this, we will take whatever action we consider necessary - including transferring parts of our operations from Scotland - in order to ensure continuity and to protect the interests of our stakeholders".
Standard Life Chief executive David Nish said a number of material issues remain unresolved in connection with independence, including currency and the shape and role of its monetary system.
Risk analysis
He also highlighted arrangements for financial services regulation and consumer protection and the approach to individual taxation, especially around savings and pensions.
Mr Nish added: "We will continue to seek clarity on these matters, but uncertainty is likely to remain.
"In view of this, there are steps we will take based on our analysis of the risks."
Mr Nish insisted Standard Life had a "long-standing policy of strict political neutrality and at no time will we advise people on how they should vote".
Reacting to the announcement, Scottish Finance Secretary John Swinney, said: "Standard Life's comments show exactly why our proposals for a formal currency area are the right proposals, why they are in the best interests of business on both sides of the border and why that is what will be implemented by both governments.
"This also shows why the UK government have a duty to engage properly with the issues instead of issuing irresponsible threats."
Mr Swinney added: "The UK government are engaged in a systematic campaign of bluff, bluster and bullying, but we have already seen the UK government accept that it will remain legally liable for all UK debt, and the PM offer his support for Scotland's membership of the EU - the issue of currency will be no different."
Scottish presence
Mr Clegg said the announcement was not surprising because of uncertainty over issues like currency.
He told BBC Radio 5 Live: "Because of the failure of the SNP to prepare for this moment and spell out what they mean by independence, it is no wonder that major employers are saying 'maybe we can't continue with our presence north of the border'."
Asked whether it was right for businesses to intervene in the independence debate, the Deputy Prime Minister said: "I think it's right for businesses to answer questions for themselves about their own business and address themselves to their own workforce, because there are thousands of people who work for Standard Life who want to know, 'what does it mean for my future and my ability to pay my bills if Scotland were to be yanked out of the UK?'."