Scottish independence: Pensions and the referendum debate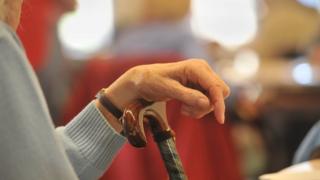 How to fund an increasingly ageing population is a 21st Century problem that weighs heavily on the minds of governments across the world.
And it certainly matters in Scotland - the issue of pensions has consistently registered as one of the key issues in the independence debate.
A recent BBC poll found that pensions came second in a list of the 10 things that mattered most to voters - only the economy was deemed more important.
The Think Tank Reform Scotland raised the issue again in a report criticising Westminster for failing to make clear how "uncertain, unfunded and unsustainable" the current system is.
The Scottish government has said pensions would be "fully protected" in an independent Scotland, but bodies including the Institute of Chartered Accountants of Scotland (ICAS) and the National Association of Pension Funds (NAPF) have warned that more clarity is needed.
Here, we look at some of the key points in the pensions debate.
The current set-up
At the moment, state pensions are managed by the UK government, which pays £110.15 a week for a single person and £176.15 a week for a couple. The pension age is currently 65 for men, while women are in the process of being raised to that entitlement age.
Once that equalisation process finishes in 2018, the pension age will be swiftly raised to 66 over the next two years, rising yet again to 67 between 2026 and 2028.
In his autumn statement, Chancellor George Osborne announced the pension age would go up to 68 sometime in the mid-2030s, about 10 years earlier than originally planned.
Currently, some public sector pension schemes (such as those on offer to nurses, teachers, police, civil servants and members of the armed forces) are administered by the UK government, while others are managed by the Scottish government.
A recent study of Scotland's demography by the University of Ottawa suggested the number of working age people in Scotland will grow at a slower rate than in the rest of the UK, partly due to lower rates of immigration.
Researchers said this will put an extra burden of taxation on workers, amounting to about 1.4% of national income by 2035.
However, the authors also pointed out that this burden is a smaller factor than the overall pressures from demographic change affecting the whole of the UK and other countries.
Pensions post 'Yes'
The Scottish government has laid out its plans for the state pension in the event of a "Yes" vote in its White Paper for Independence and a separate pensions analysis paper.
It proposes a new single tier state pension, to be paid at a similar rate to the UK pension, that would be protected by the "triple lock" - whichever is higher from earnings growth, inflation or 2.5%.
The paper also says all rights and entitlements to public service pensions will continue to be protected after independence, and that there would be no difference to individual contribution rates.
According to research by the National Institute of Economic and Social research, an independent Scotland could delay the rise in the state pension age by 12 years, as Scots, on average, have a lower life expectancy than other parts of the UK.
That mortality gap is closing, however. It is projected to remain for those currently aged between 30 and 60, but life expectancy is expected to be closer to UK levels for those in Scotland now under 30.
And such a delay could cost the Scottish government about £750m a year, according to the institute.
Meanwhile, a new Scottish Pensions Regulator would support a pan-UK approach to the regulation of private pensions, according to the Scottish government, while its preference would be to maintain the current UK-wide Pension Protection Fund, though there would be an option to establish a Scottish version of the fund.
What the campaigns say
Finance Secretary John Swinney has said pensions would be more affordable in an independent Scotland and would "continue to be paid in full, and on time, as now", while the pro-independence Yes Scotland campaign criticised successive Westminster governments for mismanaging pensions.
Nicola Sturgeon, in her introduction to the Scottish government's pensions paper, said independence offers "a genuine opportunity to deliver an affordable, fair and efficient pensions system".
However, former Labour Prime Minister Gordon Brown said a "Yes" vote would put pensions at risk and cost more, adding that people in Scotland currently get a higher contribution to their pension pot than people elsewhere in the UK.
Speaking on behalf of the pro-Union Better Together campaign, Labour's pension spokesman Greg McClymont said the UK systems worked well through the pooling of resources and the spreading of risk.
What the industry bodies say
Earlier this month, accountancy body ICAS published a report on pensions, which highlighted uncertainty over whether an independent Scotland or the rest of the UK would pay some state entitlements.
The report said there was no clear plan on how pensions would be managed if Scotland votes "Yes", and claimed employers with under-funded cross-border schemes could be faced with "substantial" costs or even closure due to EU rules.
In November, the NAPF called on both the Scottish and Westminster governments to clarify their plans for pensions if Scotland becomes independent.
In a report called Scottish independence: the implications for pensions, the association concluded that independence would have "substantial implications" for pensions and questioned how the proposed regulatory scheme would work.