Corroboration law 'denying justice', says justice secretary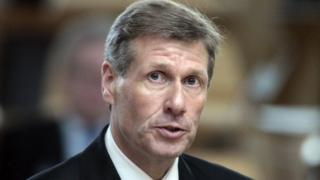 Justice Secretary Kenny MacAskill has said that the current corroboration law means that "possibly thousands of victims" a year are denied the chance to seek justice in the courts.
The move to abolish the law has been backed by police and prosecutors.
However, there has been fierce opposition from within the legal profession over the suggested changes.
MSPs will vote on the proposals to scrap the rule as part of the Scottish government's Criminal Justice Bill.
The justice secretary insisted the centuries-old requirement was a "legal barrier which stands in the way of too many cases going forward to court" when there would be prosecutions in other countries.
Scrapping the "complex" legal rule, which means evidence against a person in a criminal case must come from more than one source, is "vital", he added.
Plans to abolish corroboration have been welcomed by the police, victims' groups and prosecutors, with some arguing that removing the need for corroboration would make it easier to take cases of sexual assault and domestic abuse to court.
The Crown Office found that in 2012-13 there were 2,210 domestic abuse cases which could not be prosecuted because of insufficient admissible evidence.
The justice secretary has already announced a special group is being set up, chaired by former High Court judge Lord Bonomy, to consider what safeguards would be needed if the change is passed.
The Scottish Parliament will debate the general principles of the Bill on Thursday, with Mr MacAskill saying the legislation is a "package of significant reforms to modernise our criminal justice system".
He added: "The Bill includes the proposal to abolish the corroboration requirement and remove a legal barrier which stands in the way of too many cases going forward to court.
"No other comparable criminal justice system, including all the 47 states that are signed up to the European Convention on Human Rights (ECHR), operates a general requirement for corroboration.
"This means that Scotland's legal system, as it currently stands, is denying access to justice to possibly thousands of victims a year."
'Quality of evidence'
The proposed reforms have been backed by the Assist organisation in Glasgow, which helps victims of domestic abuse.
Mhairi McGowan, head of service at Assist, said: "The current justice system is failing victims.
"Credible allegations are being made, yet with the system based on corroboration there is not the opportunity to test those allegations in court.
"The criteria for prosecution should be the quality of evidence available. We see clients confused and despondent, and we have a duty to answer their criticisms."
The debate on the general principles of the Criminal Justice Bill can be watched live from 2.30pm on Thursday at BBC Scotland's Democracy Live website.