Scottish independence: Kirk says debate is about more than cash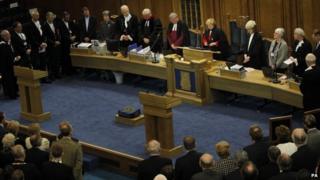 The Scottish independence debate needs to go beyond issues like how much better off Scots will be financially, a Church of Scotland report has said.
The church also pointed to "strong" levels of dissatisfaction with the political system as a whole.
The report was based on the views of more than 900 people who went to 32 community events run by the Kirk.
It came ahead of the Scottish independence referendum, on 18 September.
The Church of Scotland has taken a neutral position on independence, but has called for the debate to focus on issues like social justice, at a time when many in politics were looking only at the economic and financial consequences of constitutional change.
Commenting on the report, Rt Rev Lorna Hood, moderator of the general assembly of the Church of Scotland, told BBC radio's Good Morning Scotland programme: "The top 10 values turned out to be equality, fairness, justice, education, respect, honesty, community, opportunity, compassion and tolerance.
"Strangely, the word prosperity didn't appear until about number 53 - people weren't concerned, particularly, about their own wealth.
"People weren't concerned about, 'will this make me slightly better off or not'."
The Kirk report concluded:
The referendum was about far more than the simple question "what is in it for me?" The idea that being £500 better off or worse off would affect how people vote was "conspicuous by its absence" in all the 32 events.
Participants prioritised the building of local communities on the principles of fairness, justice and sharing of resources.
Dissatisfaction with the political system "at all levels, not just Westminster or Holyrood also featured strongly".
Participants wanted to hold politicians accountable between elections and for the party system to be "less powerful".
A need for "limits" on free market forces, with business models "more focused towards the employee and more value driven".
A willingness to consider "alternative and more progressive models of taxation" to build a better society.
The Kirk community events were held across Scotland over the past 12 months.