Scottish independence: Global interest in Scots White Paper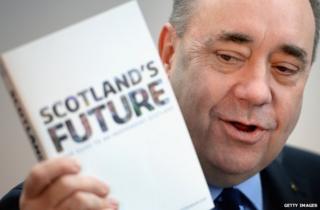 More than 56,000 copies of the Scottish government's blueprint for independence were ordered online across 40 countries in the first two months of its release.
A total of 41,657 copies of the White Paper were downloaded as e-books and a further 15,130 hard copies were ordered, according to BBC research.
Requests for the document came from as far as Argentina and Nigeria, although most were in Scotland.
The White Paper came ahead of September's Scottish independence vote.
You can see where the White Paper has been delivered using an interactive dashboard created by BBC Scotland.
Scotland's Future: Your Guide to an Independent Scotland, published on 26 November last year, was described by the Scottish government as a "mission statement" for the future.
Constitutional future
Between 26 November 2013 and 15 January 2014, a total of 56,787 copies were ordered online, according to data obtained under freedom of information laws.
There were 20,002 e-book downloads on the first day.
Most requests for the 667-page document came from addresses in Glasgow, Edinburgh, Aberdeen, Dundee and Inverness respectively, although the most copies (208) were delivered to the Edinburgh EH6 postal area.
The sixth largest number of orders came from people in London.
Copies of the White Paper were also mailed off to other countries which have been considering their own constitutional futures.
Ten of the 36 copies sent to Canada were requested by residents of Quebec, the Francophone province which held independence referendums in 1980 and 1995.
The White Paper was also sent to Spain's Basque Country and the former British colony of Hong Kong.
The online order form for hard copies of the document became available on 3 December 2013, a week after its official release.
Online orders spiked on 5 December last year, with 917 requests, and 30 December, when there were 1,071.
Two thirds of the total - 15,130 orders - were submitted by men.
The White Paper, which had an initial print run of 20,000 copies, has now been printed a total of 40,000 times.
Digital downloads of the document far outstripped demand for the physical version.