Alex Salmond says David Cameron 'caught napping' on floods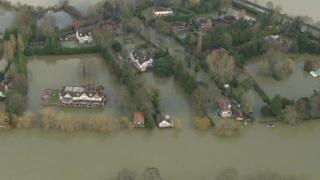 Scotland's First Minister Alex Salmond has criticised the initial response of the UK government to the winter storms in England.
Mr Salmond said that the prime minister and his colleagues had been "badly caught napping" and could learn lessons from the Scottish government.
He was speaking ahead of a meeting of the UK cabinet in Aberdeen on Monday.
The Scottish Cabinet is due to meet a few miles away in Portlethen on the same day.
The chief secretary to the Treasury, Danny Alexander, said Mr Salmond should concentrate on his own responsibilities instead of "trying to score a cheap political point".
Flood damage
Flooding has caused extensive damage in parts of England and Wales, especially on the Somerset levels and in the Thames Valley.
On Friday, a group of experts from 17 environmental and planning organisations wrote to the prime minister saying that better water management could have helped prevent flood damage.
Mr Salmond said the UK government should "nick some ideas out of Scotland's book, particularly in how you prepare for serious weather conditions".
He said: "I think that would be quite a good thing, because obviously they were caught napping at Christmas. They've moved into overdrive in February."
Scotland has experienced some severe weather this winter but not to anywhere near the same extent as in parts of England.
Mr Alexander, the Lib Dem MP for Inverness, Nairn, Badenoch and Strathspey, said: "I think those comments will elicit a hollow laugh from those people who were caught for many hours in heavy snowfall in central Scotland in 2010, when the Scottish government was clearly not as well prepared as it should have been."
The Scottish transport minister resigned in December 2010 after an unexpected Arctic blast brought parts of Scotland to a standstill.
Immediate response
The Scottish government overhauled its emergency response plans at that time and now regards its resilience operation as a model.
Mr Alexander defended the UK government's response to flooding.
"The truth is that these are very significant natural events," he said.
"They're ones where the Environment Agency and the emergency services have been doing a very good job in dealing with the immediate response.
"Our job now is to make sure that as things are cleaned up, we take all the steps necessary to ensure that those communities are protected in future."
Mr Alexander is the most senior Scot in the UK government. He is due to join David Cameron and the rest of the Cabinet for the meeting in Aberdeen on Monday.
It is only the third time the UK Cabinet has met in Scotland.
The Scottish government's cabinet is meeting on the same day a few miles away in Portlethen, with seven months to go until the independence referendum.