Scottish independence: PCS union 'neutral' in independence debate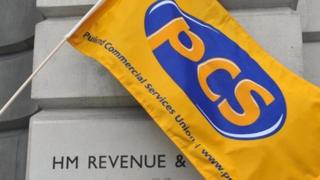 Members of one of Scotland's biggest unions have voted against taking any side in the Scottish independence campaign.
There had been speculation members of the Public and Commercial Services (PCS) union would back a "Yes" vote in September's referendum.
But instead they voted overwhelmingly in favour of the advice from their leadership to take a neutral stance.
The union represents about 30,000 civil servants in Scotland.
Delegates from the PCS debated and voted on the issue at its conference in Glasgow following a consultation process in which branches from workplaces around Scotland were asked for their views on independence.
Three propositions
They voted on three propositions linked to the result of September's referendum: backing a "Yes" vote, supporting a "No" vote or taking a neutral position.
The neutral option was backed by 18,025 votes, with 5,775 votes in favour of supporting independence.
No votes were cast in favour of backing a "No" vote in the referendum, which will be held on 18 September.
PCS Scottish Secretary Lynn Henderson said she was "proud that we have an outcome reached by widespread democratic consultation with our members".
She said: "The referendum debate is frequently polarised in the media, and often sheds more heat than light. In reality ordinary working people want answers to their key concerns in this referendum."
Ms Henderson said the union would be debating the issues with politicians on both sides as it campaigns for a Scotland that is "progressive, fair and committed to the values of public service".
The union's leader had spoken in favour of taking a neutral position.
But members of the union's East Kilbride Revenue and Customs branch had previously voted in favour of backing a "Yes" vote, as had the Glasgow Department for Work and Pensions branch.
Some other unions, including the GMB and ASLEF, are backing the "No" campaign, while the Prison Officers' Association last year said it would support a "Yes" vote.
Earlier this week, Scottish Trades Union Congress (STUC) leader Grahame Smith said some of his members were "more attracted by the vision offered by the 'Yes' campaign and the Scottish government", particularly around social justice.
'Significant impact'
Launching an analysis paper into independence called A Just Scotland, Mr Smith said those members were "disappointed with the lack of vision from the 'No' campaign".
He also said that none of the currency options outlined so far for an independent Scotland were "wholly compelling".
Among the speakers at the PCS conference were Deputy First Minister Nicola Sturgeon and Labour MSP Neil Findlay.
Speaking ahead of the conference, Ms Sturgeon said: "Whatever else happens today, it seems unlikely that PCS will back No - which we in the Yes camp can take great encouragement from."
Mr Findlay said he would be arguing that "no one is voting No for the status quo - I want a No vote for change."
Voters in Scotland will be asked the yes/no question: "Should Scotland be an independent country?" in the referendum on 18 September.