Scottish independence: Brown questions pension fund plan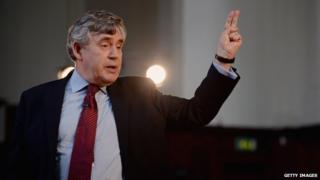 The Scottish government has failed to provide evidence it can properly fund pensions under independence, former prime minister Gordon Brown has said.
He said a "Yes" vote in the 18 September referendum would mean losing the "pooling and sharing" of resources which help fund state pensions.
And the Scottish Labour MP said questions over the value of North Sea oil raised further funding concerns.
The Scottish government said Mr Brown had no credibility on the issue.
Speaking to an audience of pensioners in Lochgelly, in Fife, Mr Brown said people in Scotland got a higher share of the UK pension pot, amounting to £200 more on average each year than their English counterparts, or a total of £200m for the country.
"The SNP know that they have got a problem - the rising demand for pensions, set against the money that they have, means there is greater volatility in social security spending," he said.
The Kirkcaldy and Cowdenbeath MP went on: "They haven't answered the basic problem - you have paid into your pension, into the UK Exchequer all your lives, you've paid your national insurance, you've paid your taxes so that you have a right to a pension.
"You are expecting, quite rightly, that you will get a British pension - but if there is independence, the British pension stops, the national insurance fund that you're paying into is broken up."
"There will be a separate Scottish national insurance fund, and the rest of the UK will have the lion's share," said Mr Brown, who was launching the Keep our British Pensions campaign, with Labour pension spokesman Gregg McClymont.
Deputy Scottish First Minister Nicola Sturgeon said the Scottish government had said "clearly and unambiguously" that people would continue to get the pension entitlements they had built up in the event of independence.
She added that social protection costs represented a lower share of tax revenues in Scotland than for the UK as a whole, meaning pensions were more affordable north of the border.
Ms Sturgeon argued: "The last person anyone in Scotland will take lessons from when it comes to pensions is Gordon Brown - the man who destroyed final-salary pension schemes with his £100bn raid, and insulted our older folk with a miserly 75p increase in the state pension.
"Mr Brown's track record means that he lacks all credibility on this subject, so it is little wonder that his speech bears little relationship with reality."